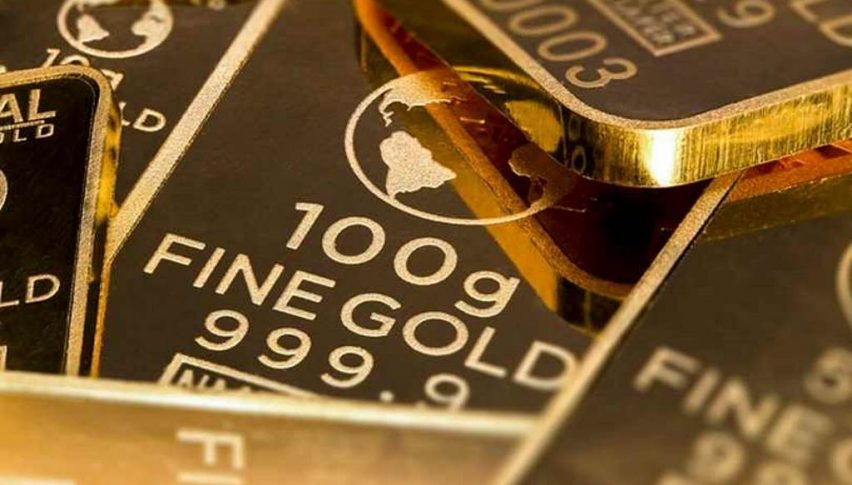 Gold Extends Gains Ahead Of FOMC Minutes, U.S. CPI
The markets continue to show strength, led by the U.S. indices and commodities. Investors are pouring into gold and WTI crude oil, creating robust intraday bullish trends. The USD continues to lag against the Euro and British pound, but is posting gains against the Japanese yen and Swiss franc.
The big mover on today's forex has been the USD/CAD, falling dramatically. Perhaps the coming 24 hours will provide some relief for the Greenback against the Loonie:
Country                       Event
Australia                     RBA Governor Philip Low Speech
Eurozone                    Non-Monetary Policy ECB Meeting, Draghi Speech
U.K.                             Industrial Production (Feb.), Trade Balance (Feb.)
U.S.                             CPI (March), FOMC Minutes
Central bankers are positioned to dominate the coming news cycle. With Lowe, Draghi, and the FOMC Minutes due to influence markets, anything can happen by this time tomorrow.
It will be fascinating to see how the markets price Wednesday's release of the FOMC Minutes. The rhetoric coming out of the last meeting was focussed upon "gradual tightening" and "incremental rate hikes." The recent escalation of U.S./China trade tensions may have made the FOMC Minutes a moot point.
Be on the lookout for tomorrow's U.S. CPI release. Analysts are projecting the number to come in at 2.1%, up from the previous release of 1.8%. If this report lags, look for the USD to plummet vs the majors. Investors are already skeptical of the FED sticking to its declared policy of tightening — a low CPI reading will have traders looking for the door en masse.
Gold Technicals
Gold has posted a strong three-session winning streak. Prices are up big since last Friday's rejection of a key Fibonacci support level.
At the moment, it appears that June gold is on a collision course with the 1350.0 handle. Buyers are in complete control ahead of tomorrow's FOMC Minutes and U.S. CPI release.
Here are the levels to watch for the late-U.S. session:
Resistance(1): Psyche Level, 1350.0

Support(1): Bollinger MP, 1335.8
Overview: It is anyone's guess how this market will unfold in the coming 24-36 hours. The recent uptrend will be tested by the economic calendar.
With the FOMC minutes and ECB chief Mario Draghi due to make headlines, the bullion markets may be in for some turbulence. If you are going to be trading gold during this period, be sure to have your stops down and leverage in check!