Forex Signals US Session Brief April 12 – Risk On, Risk Off. Real War in Horizon as Well as Trade War
The trade war that Donald Trump's administration is trying to open with China is taking form, although other economies will be affected and involved, that's what wars do. But, it looks like we might be heading for another war, a real one this time. Trump is already up and tweeting war tweets about Syria.
I think the US/NATO should have intervened heavily in Syria long ago
The World Is Changing, for Better or for Worse
We all heard about the gas attack in Syria. Another disgusting war crime with lots of civilian casualties. It's sad to see such monstrous acts in this day and age. The market used to react violently to such events but it has ignored this event. It goes to show that the world is getting used to this BS, that's the worst thing.
Well, Trump is not taking it. To be honest, I wasn't fond of Donald Trump judging by his previous actions before he became president of the US and of course, by his words. But, I am starting to see sense in a lot of his actions since taking the job at the White House.
China has been having a free lunch for quite some time, a few decades I would say. A lot of foreign capital has poured in China during the last 30 years as Western companies have been relocating their production facilities in China. So, the tax base has been reduced in the Western world, which is one of the main issues of globalisation together with mass human migration.
Governments should act globally to tackle the problem. The EU is the way to go, regional bodies and international cooperation.  That's why Trump makes a lot more sense to me than Brexit, Brexit doesn't make any sense at all, it doesn't tackle any problems.
So, Donald Trump has tweeted that there might be an attack on Syria. I don't know whether this will be a full scale war or just missiles like the last time. Safe haven assets should have tumbled, but the world is not the same. If things escalate though, I see Gold and JPY rallying like crazy.
Cryptocurrencies Rally
Cryptocurrencies have been in a limbo for more than a week. The buyers tried to have a go at the beginning of last week as they pushed cryptos higher, but the sellers returned again and brought altcoins back to the lows.
Bitcoin fell to $6,500 and has been trading in a $500 range for more than a week. Crypto sellers didn't have enough fuel to push any lower while the buyers were scared to push higher. So, altcoins have been stuck in a limbo.
Things are changing though. Cryptos are surging at the moment and Bitcoin is up around $1,200 in just two hours. I can't find what's behind this move but the move is strong, so there should be some news behind it.
Ethereum has been trading in a range as well, but it looks like it is forming an uptrend now. We see that moving averages have been providing resistance on the H4 chart. Now, they have been broken to the upside and they are acting as support.
The 20 SMA (grey) has turned into support which means that the uptrend is picking up pace. The smaller the moving averages, the stronger the trend. We don't know yet if the big trend is changing; we will have to wait a bit longer to see whether the buyers manage to push higher.
The uptrend is starting to take form, but it's still too early to tell
Trades in Sight
Bearish AUD/USD
The trend is starting to change
The moving averages are providing resistance
The daily chart is overbought
The previous candlestick looks bearish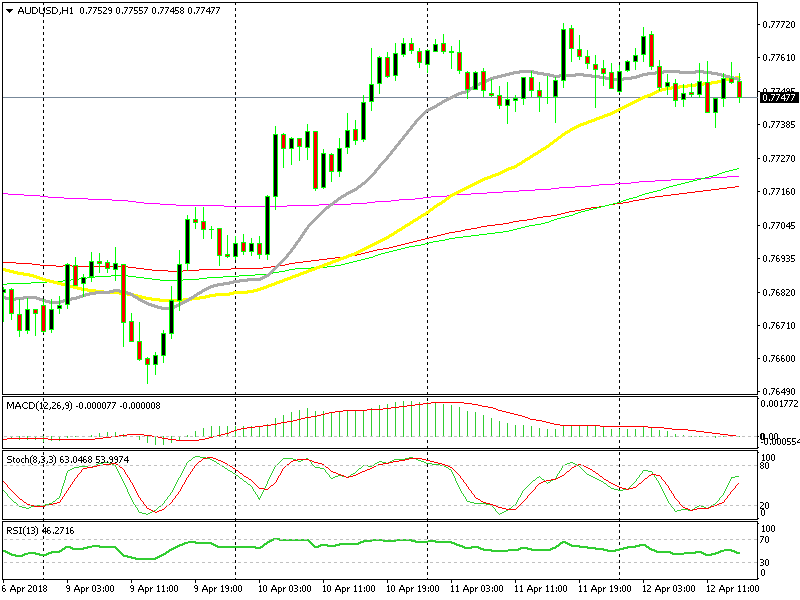 The moving averages are turning into resistance now
The previous candlestick in AUD/USD formed an upside-down hammer which is a reversing signal. The moving averages used to be support in the last several days, but it seems like the 20 SM (grey) and the 50 SMA (yellow). The daily chart has become overbought now, so there might be a good opportunity for sellers here.
In Conclusion
The market is a bit uncertain a he moment since all major pairs are moving slowly and in different directions. Trump shouted war in Twitter, while the Russians are playing the good cop, as always. Forex traders are waiting to see what will happen, be wary of a sudden strong move guys.