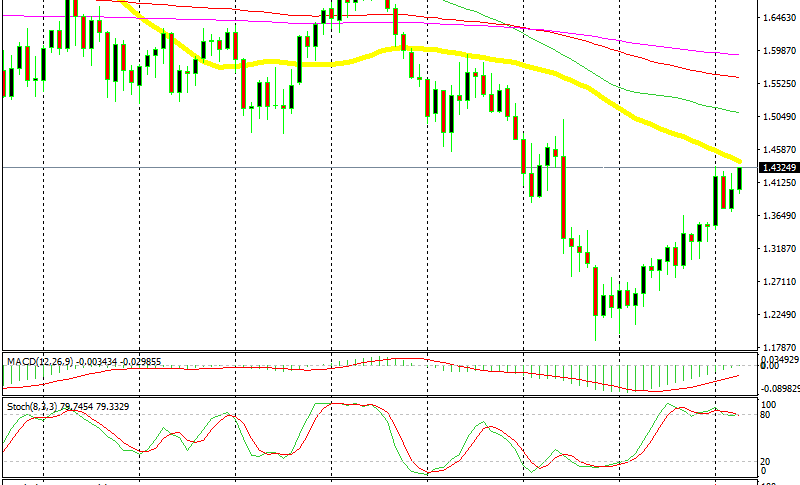 GBP/USD Heads for the Highs
The situation has improved considerably for GBP/USD. The UK is caving in and it seems like they are heading for a soft Brexit. This has encouraged the buyers and the uptrend which started early last year has resumed. GBP/USD retraced lower on February, losing more than 600 pips in the process.
But, the UK political scene looks increasingly like they will accept a soft Brexit. I think that was the way things were going to turn out since the beginning. The EU wasn't going to allow the UK to have the cake and eat it, so the British government was trying to sell this to the public bit by bit.
So, GBP/USD has climbed more than 600 pips again as the signs of a soft Brexit increase. We have a long term sell forex signal in this pair which doesn't look very good at the moment. But, we have one last chance. The 50 SMA (yellow) is standing about 100 pips higher on the monthly chart.
The 50 SMA is the last hofe for GBP/USD sellers
The stochastic indicator is severely overbought, obviously. Hopefully, this moving average will provide resistance for this forex pair and reverse it down. Actually, the stop loss of our signal is at 1.4370. I think that we will have to move it above the 50 SMA.
So, GBP/USD is surging on hopes of a soft Brexit. But on the other hand, Brexit is still Brexit. Logic tells us that this pair can't go to pre-Brexit levels. But, logic doesn't always work in forex. Perhaps, this moving average will do the job for us, let's see.