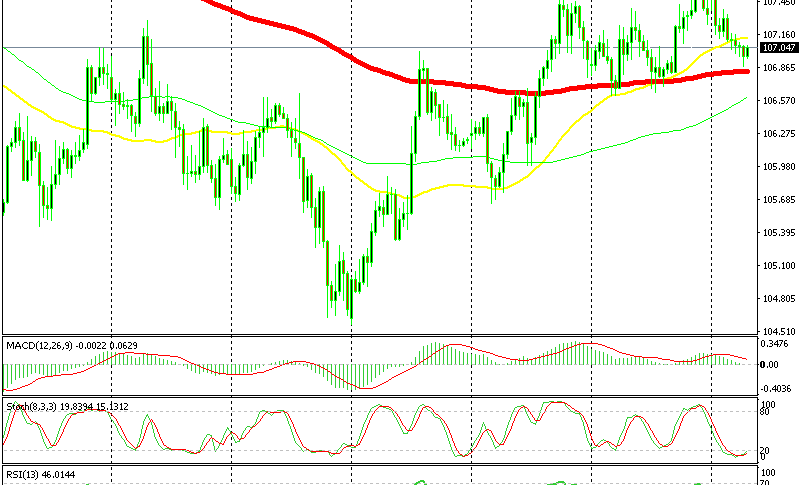 One Moving Average Gone in USD/JPY, Another Coming Into Play
Yesterday we opened a forex signal in USD/JPY as this pair was retracing lower after three weeks of trending higher. We were counting on the 50 SMA (yellow) on the H4 chart. This moving average had provided support and resistance previously so it looked like a good indicator to use for our forex trade.
The 100 simple MA (green) was coming at the same levels as well, although in the H1 chart. So, there were two technical indicators pointing up for us.
USD/JPY did bounce off that level, but the bounce was pretty small. This pair jumped 20 pips higher, but the sellers returned and they pushed this pair lower again.
The 100 smooth MA is holding on well
USD/JPY dived below 107 today, but in the last few hours it has climbed back up. As you can see from the H4 chart above, the 100 smooth MA (red) provided solid support today. So, it looks like the 50 SMA gave up and the 100 SMA has taken its place now.
This moving average has been the perfect support and resistance in the last two weeks and it seems like it is working in the same way today. The stochastic indicator is oversold and reversing up, which means that the retrace down is complete on this timeframe. We can't do anything now, so we are just letting this trade run its course.