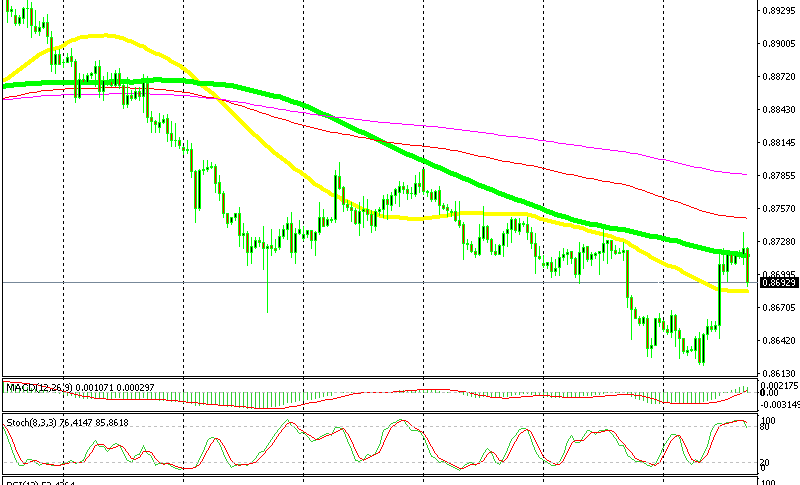 EUR/GBP Breaks Resistance but Turns Back Down. Time to Cash in on Another Trade
Yesterday we opened a forex signal in EUR/GBP. We decided to sell this pair after making a pullback/retrace higher in the afternoon. This pair has been on a steep downtrend for nearly two months as the GBP kept climbing on soft Brexit rumors.
Although, the UK inflation report gave GBP buyers a mini heart attack yesterday. Inflation cooled off and missed expectations, which in my book is a good thing for the British economy. But forex traders don't really care much for the economy, they care more about what they can get their hands on at the moment. They sold off the GBP and EUR/GBP rallied as a result.
The 100 SMA resisted again despite being pierced
This forex pair had started to retrace higher on Tuesday and yesterday it surged after the inflation report was released. But, we saw this as an opportunity to go short on EUR/GBP.
As you can see from the chart above, the price reached the 100 SMA (green) on the H4 timeframe and it was finding it pretty difficult to break above it. The stochastic indicator was also overbought, which meant that the pullback was complete.
We pulled the trigger on that trade and got close to cashing in as EUR/GBP kept wobbling in the afternoon. During the night, the buyers managed to claim a small victory as they pushed above the 100 SMA.
But that didn't last long. The previous H4 candlestick closed as a doji or a spinning top if you want to call it that and the price slipped below the 100 SMA again. GBP/USD has been climbing in the last several hours, which has put more pressure on the downside in EUR/GBP. The price is just 2 pips above our TP target so it looks like we will get our pips soon.