The USD Continues to Advance Today as Well
The USD has been trading sideways in a considerably wide range in the last few months. The range varies between 200 and 400 pips, depends on the pair. This range has been pretty visible for all, especially in EUR/USD.
As we have often pointed out, EUR/USD has formed a top at 1.24-25 and a bottom at around 1.22. You'd think it would be pretty easy making some pips trading this range. Well, we have made some pips already in this range although we could have made more. But, every move up or down comes with a lot of stigma and emotion since many factors are involved in forex nowadays, technicals, fundamentals, politics you name it.
Anyway, today the USD is in the bullish phase. It has been on a bearish phase last week and early this week, but in the last few days the trend has started to change and today the USD is stretching the upside.
You can see that the US Dollar is trending up just by looking majors. A few days ago, EUR/USD couldn't move below the 100 SMA (red) on the H4 chart, today it can't even make a decent retrace up. This pair has lost more than 50 pips this morning without looking back.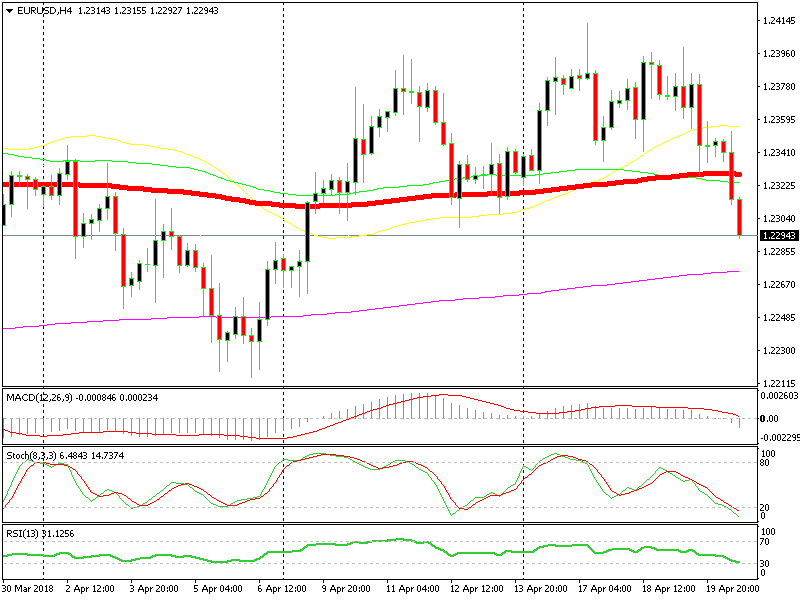 The 100 SMA would be a great place to sell
The same thing is happening in GBP/USD. Yesterday this pair lost around 200 pips from top to bottom after Carney's soft comments about interest rates. I placed a pending order 20 pips above the price last night, hopping for a small pullback higher so we could sell this pair, but nothing, nothing at all. The downside has resumed this morning without any retraces whatsoever. So, the US Dollar is on a bullish phase now, therefore I will be looking to buy it today, probably by selling EUR/USD or GBP/USD.