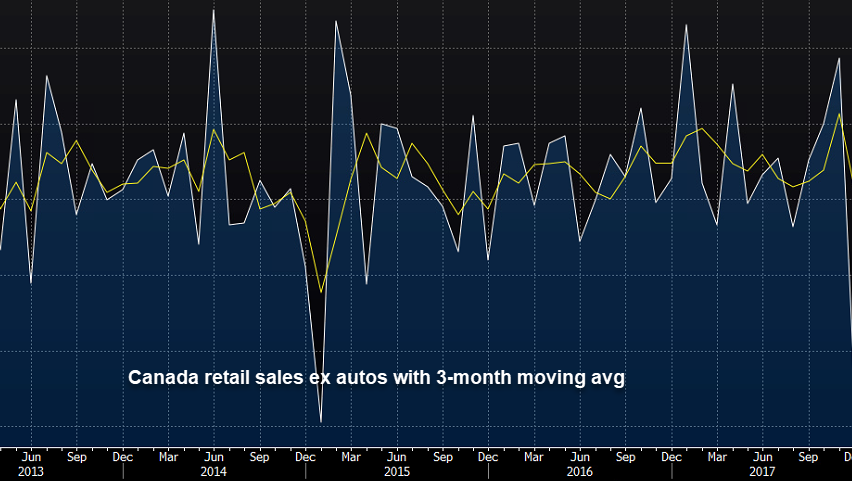 USD/CAD Pops Higher Again After Disappointing Data
The moving average has already dipped into negative territory
February and most of March were really great for USD/CAD buyers. This forex pair made a massive climb, worth nine cents from the lows to the very top. But, by mid-March, the situation changed and USD/CAD reversed back giving back six cents to the market, which means 600 pips if we translate.
Although, it seems like another reverse is taking place now. In the last three days, this forex pair has climbed around 200 pips in consecutive waves. The latest reverse came after the Bank of Canada statement earlier this week which wasn't as hawkish as many forex traders had anticipated.
Basically, the BOC put the focus on the economic data and this round of data today is pointing down for the CAD, which means up for USD/CAD. CPI (consumer price index) inflation was slashed in half compared to last month.
The retail sales report was even worse, with core retail sales coming in flat at 0%, down from 1% the previous month. That's a terrible reading but at least it wasn't negative. So, it was a terrible round of economic data from Canada and USD/CAD has completed the next leg of the uptrend that started on Wednesday.
Moving averages work quite often, that's why me and many others like them
But now, this pair faces a number of moving averages. You can see the 100 simple (green) and smooth (red) moving averages and the 200 smooth moving average (purple). These moving averages have provided support and resistance previously and they are acting as resistance now.
We can pull a small scalping trade, selling around here and hoping for a retrace down. But, that would be going against the trend and the winning potential is not that great. Besides, the move is pretty strong, so I would rather wait for a retrace down to the 50 SMA (yellow) and go long from there rather than shorting here.