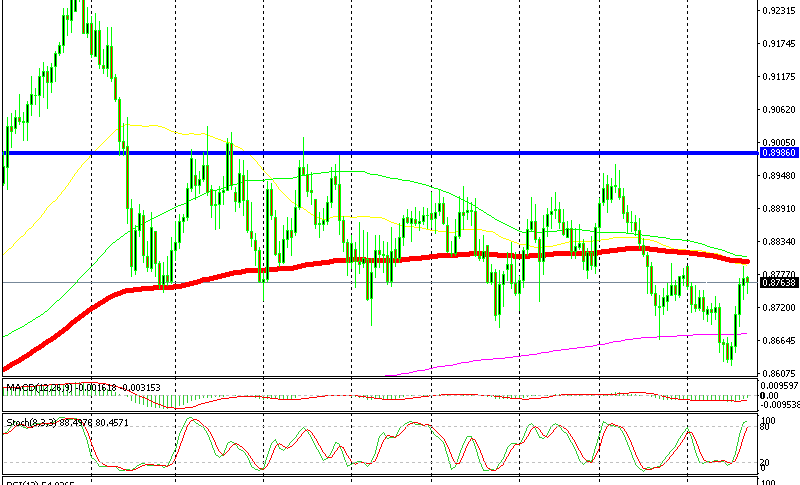 Getting Ready to Sell EUR/GBP at Prior Support
EUR/GBP has traded in a steep bullish trend last week. That came after the economic data from the UK started to show deterioration. The Bank of England (BOE) Chairman Mark Carney softened his hawkish tone last week due to the soft economic numbers and that what GBP sellers were waiting for.
As a result, EUR/GBP climbed 170 pips higher. But, the bigger trend is still bearish. This pair has been on a bearish trend for several weeks before turning bullish last week. The decline was even steeper and larger, worth 340 pips. So, at the moment this pair is still on a downtrend.
The 100 SMA (red) has been the decisive indicator for this pair in the last 7-8 months. Above the 100 SMA and the pair is bullish, below it and we are on a bearish run. So, we're still on a bearish trend here unless the price moves above the 100 SMA.
But, the 100 SMA is likely to act as resistance now, after having provided support many times before it was broke to the downside. It's for this reason that I am thinking of opening a sell forex signal in EUR/GBP.
The stochastic indicator is already overbought which means that the retrace up is complete. The 100 SMA is also expected to provide resistance, so I will wait a bit longer, perhaps the buyers push a bit higher so we can get a better risk/reward ratio closer to the 100 SMA.