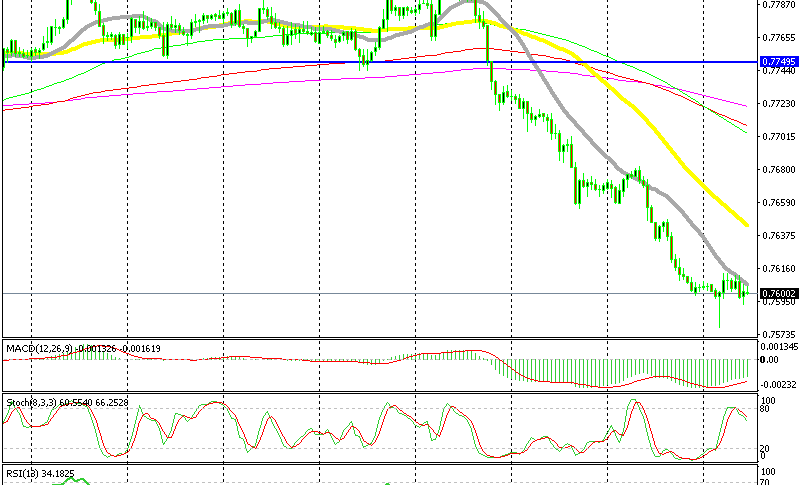 The Smaller the MAs at Play, the Steeper the Trend. Deciding on AUD/USD
You know by now that moving averages are one of my favourite technical indicators. They are pretty visible so you don't have to assume things. I use a range of moving averages from the 20 SMA to the 200 SMA, simple and smooth.
They take each other's place in providing support and resistance so they're never out of the picture, unless a really steep move happens. The smaller moving averages are the first to catch up with the price during major moves, hence the title of this forex update, the smaller the moving average the steeper the trend.
Right now, the trend in commodity Dollars is pretty strong on the hourly chart. They have turned bearish and the USD has turned hawkish, so there are two factors affecting pairs like AUD/USD. It's for this reason that AUD/USD has been on a steep bearish trend in the last several days.
This forex pair has lost more than 200 pips during this time and we can see from the H1 chart that the 20 SMA has been providing resistance. This moving average has been pushing the price lower and now the two have met again.
The 20 SMA is providing support again
The price and the 20 SMA (grey) are back together again and it looks like the 20 SMA is trying to convince this pair to resume the downtrend. The stochastic indicator is overbought and it is turning down now.
But, the problem is that AUD/USD has gone down too fast in the last three days and a decent retrace up is overdue. There the risk that a decent retrace higher follows, probably to the 50 SMA (yellow) at 0.7640-50. That level used to be support so it is likely to turn into resistance now, if the buyers can push above the 20 SMA.
Right now it's decision time, whether to sell here at the 20 SMA or wait for a pullback to the 50 SMA. We don't know yet, so you have to follow our forex signals to see if we will go short here or at the 50 SMA.