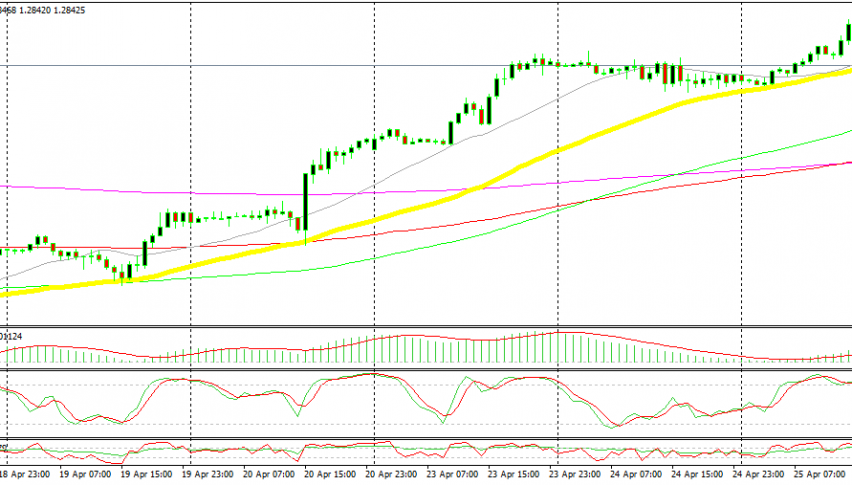 A Good Opportunity to Buy USD/CAD Appears. We Took It!
We just opened a buy forex signal in USD/CAD. This forex pair has is in a solid uptrend at the moment but it has just formed a bullish setup after retracing lower this afternoon and we decided to take our chances. Let's see what prompted us to go long on this pair.
The biggest bullish sign is the uptrend. As we mentioned above, the trend started reversing last Wednesday after a strong downtrend which lasted for a two week. The downtrend was strong, but the uptrend now is even stronger since USD/CAD has recuperated all the losses in just one week. You can see that if you switch to the H4 chart.
Since around midday, this forex pair has made a pullback lower and now this pullback has taken the price to the 50 SMA (yellow). This moving average has provided support many times before, so the chances that it does the same again are pretty high.
The candlesticks are another good technical indicator which I often use. You can see that the previous candlestick closed as a pin. It means that the sellers had a go at breaking the 50 SMA, but the buyers overwhelmed them and brought the price back to the opening level. So, this is a reversing signal, to the upside of course.
The last nail in the coffin for us was the stochastic indicator. It has just reached the oversold area, which means that now this forex pair is now oversold on the H1 time frame chart. Besides, the US Dollar is on a strong bullish run, so what more do we need?