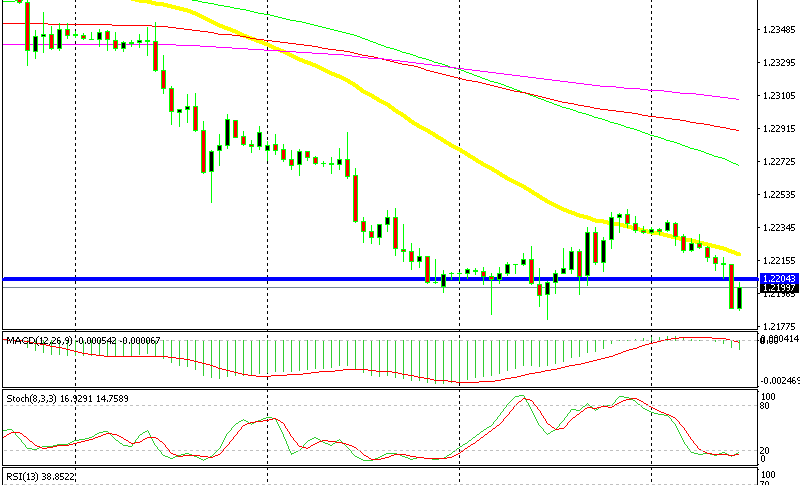 Charging Against All Majors. The USD Has Resumed the Uptrend Again
Last week turned bullish for the U.S. dollar, but it turned bullish by the end of the week. The GBP/USD has had the most horrible experience during this time, although it was affected by both, the return of the USD buyers and the declining demand for the GBP after some weak economic numbers form the UK that we saw last week.
EUR/USD also turned pretty bearish. It started reversing last Thursday and now we find it around the 1.22 level. I'm still beating myself up for not opening a long-term sell signal at 1.24. That level has turned into a solid resistance area now so it is a good place for sellers to look for trades.
This level has been a strong support area for months, but it got broken yesterday and the sellers pushed below it again this morning. The retrace higher yesterday in the afternoon was a good opportunity to open a short-term sell signal, but I hesitated since we had the sell position on the AUD/USD and the situation looked similar in both pairs.
I should have taken that trade, though, and we would have made some nice pips this morning, besides the profit we made on the AUD/USD. Now, the EUR/USD is pushing higher again but the support level at 1.22 is turning into resistance now.
Yesterday was a lost opportunity for sellers
The commodity currencies are also on a retreat today. The Kiwi and the CAD can't raise their heads while the AUD/USD is holding up a little better but it is still down. Our sell forex signal on this pair closed this morning so we are clear on the AUD/USD.
So, from what we can see in the forex market today, we come to the conclusion that the USD buyers remain in charge. We don't like to go short in the middle of a downtrend since the risk/reward ratio is not great, so we will look for pullbacks today in order to buy the USD. I can't say right now which pair we will trade, so keep an eye on our signals page for real-time trades.
EUR/USD should break below 1.06 this week with the business climate and inflation softening further in September
1 hour ago