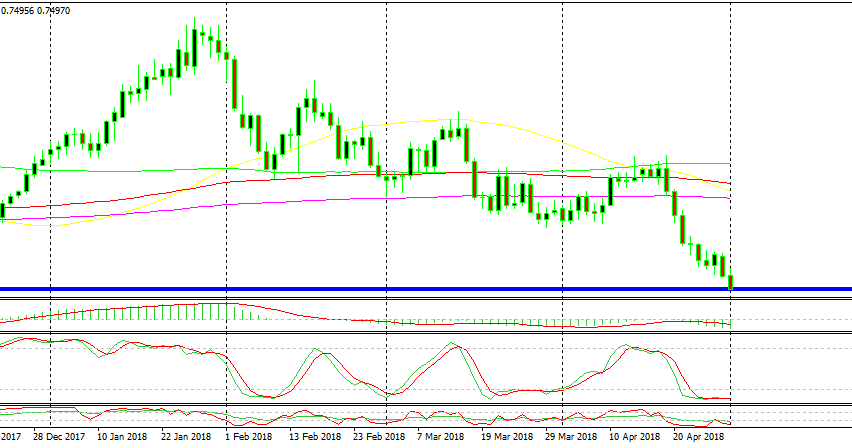 AUD/USD Survives the Night Threat. Now Charging On
We opened a sell forex signal in AUD/USD last Friday as this pair was retracing up. AUD/USD had been trading in a solid downtrend for more than a week and every pullback during this time has been a great opportunity to go short. We had one or two sell forex signals in this pair which ended up in profit, so we thought that the pullback on Friday was a good opportunity to go short again and make some more pips.
The price was retracing higher and it reached the 50 SMA (yellow) on the H1 chart. The 20 SMA (grey) was providing resistance for this pair throughout last week. This tells us that the downtrend was pretty strong. The 50 SMA provided resistance once on Thursday and the price reached it again on Friday. So, we thought that this was a good opportunity to go short.
We opened a sell forex signal based on the H1 chart, but the 50 SMA didn't hold this time. It let go and the retrace continued higher. At some point, the price was 15 pips close to our stop loss target, but eventually the reverse down came.
I was hoping that the price would find resistance and reverse at the 20 SMA (grey) on the H4 chart. But, that moving average was broken as well. AUD/USD did find resistance though, which ironically came at a level which was support and resistance before.
The area around 0.7585 had been support and then resistance last week, so AUD/USD found it hard to move above that level last night. The positive Australian inflation gauge numbers didn't help the buyers either and the reverse came. This pair formed a doji candlestick on the H4 chart which is a reversing signal.
The H4 chart reached overbought levels as stochastic touched the top of the window, which meant that the pullback up was complete. This morning, the price has slipped back lower and has moved below the entry level. So, this forex signal is looking good as well now but it will take longer than our EUR/USD signal because we picked a better entry level in EUR/USD. Sometimes, waiting a bit longer saves a lot of time and energy.