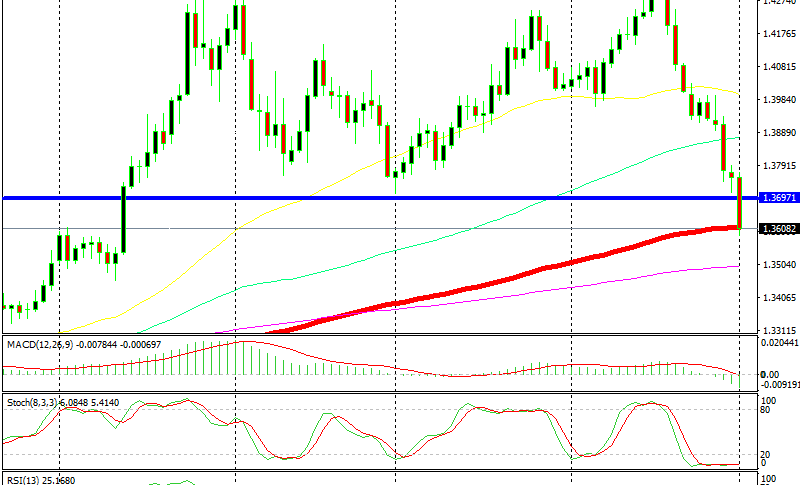 Holding on to Our GBP/USD Signal as EUR/USD Breaks 1.20 and GBP/USD Breaks 1.36 Simultaneously 
Ok, the big reverse is coming. The USD started making a turnaround about two weeks ago and bow it has taken form as GBP/USD pushes below 1.36. We have had an open signal on this forex pair since early January as GBP/USD was climbing up. This was a major resistance level and we gave it a go, but it was a bit premature as a trade.
GBP/USD kept climbing, some because of the soft Brexit rumors and some due to USD weakness. The resistance didn't hold well and this forex signal has been in red since the beginning. We had to move the stop above 1.44 and it proved to be  good decision.
Now, GBP/USD has returned back down after several attempts from sellers which have failed. Not this time though. The USD buyers have returned and they are picking up confidence on the way up, which is down for GBP/USD.
The entry level of our GBP/USD signal is 1.3637, so this is the first time this forex signal is in profit. We could close it for 30-40 pip profit but th price action points to further declines.
EUR/USD just broke below 1.20 for the first time since early January. So, the big levels are staring to let go in most major pairs. This USD rally seems unstoppable now so we think we will give this signal some more time. Hopefully, we will get a few hundred pips from this trade.