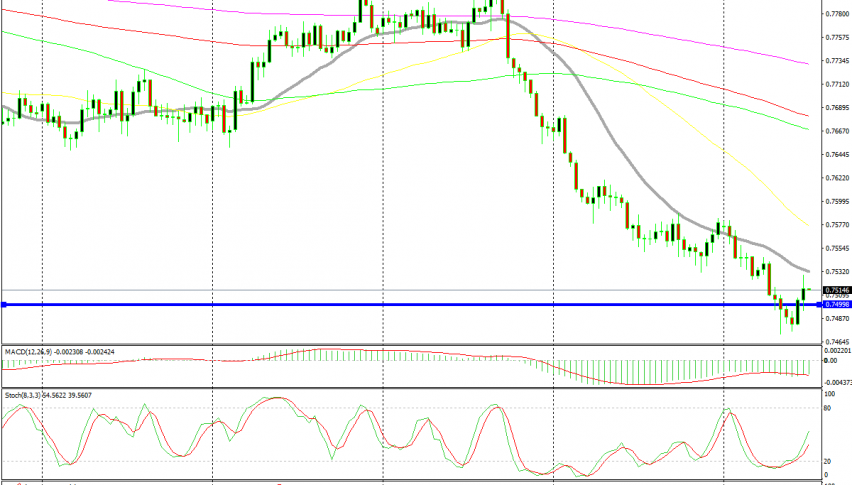 Shorting the AUD/USD Retrace at the 20 SMA
The uptrend in the US Dollar continues in full strength. Many big levels have been broken, particularly in EUR/USD and GBP/USD. AUD/USD has lost around 350 pips in about a week in a steep downtrend but has been trying to fight it this very morning, making a retrace which seems tempting to me.
Well, we already went short on this forex pair. The bearish chart setup hasn't let us down in AUD/USD and NZD/USD during this period, so why not trust it once more?
The economic data from New Zealand during the night was impressive, but I don't think that it has forced commodity currencies to put up a fight. The market was just experiencing a retrace on the US Dollar just to refresh the charts, before the next big bearish move.
If you have followed our most recent forex signals and forex updates, we have used the 20 SMA (grey) pretty often as an entry point. That's because when the trend is strong, the price respects the smaller moving average. The price got pretty close to the 20 SMA this morning, so we decided to take our chances right there.
The price action looks like it wants to turn bearish. Most majors have stalled after this morning's retrace, with EUR/USD turning lower. AUD/USD is turning bearish as well and it has dipped below the 50 SMA again on the H1 chart. Our signal is about 10 pips in profit now so it is looking good. We had a good month of April in terms of forex signals and it looks like we may have another good month, fingers crossed.