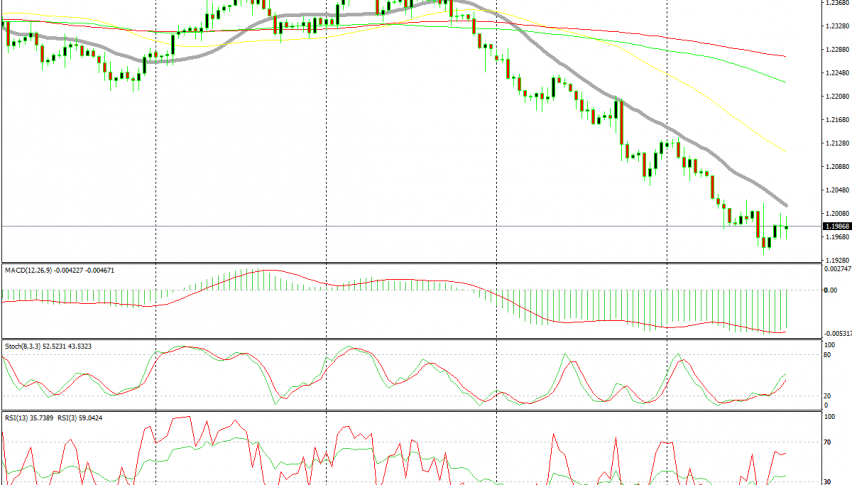 EUR/CHF Still Stuck Between Two MAs While EUR/USD Looks Tempting for Sellers
We posted a forex update yesterday about EUR/CHF. This forex pair was stuck between two moving averages. The 50 SMA was providing resistance on top while the 100 SMA was providing support at the bottom of the range. 24 hours later, we still find this forex pair stuck between these two MAs on the H4 chart.
The 100 SMA stood its ground pretty well. The price now is just above the entry level of our forex signal and is still climbing. So, it is looking good at the moment, although we're still far from the take profit target.
Another interesting chart I'm looking at is the EUR/USD one. Similarly to AUD/USD which we opened a sell forex signal on, the 50 SMA (yellow) is providing resistance on EUR/USD. This pair has made a pullback and has completed a higher retrace on the H1 chart.
But, the retrace is not complete yet on the H4 chart. As you can see above, the stochastic indicator is not overbought yet. Besides, the 20 SMA (grey) which has been pushing the price lower for nearly two weeks is now more than 30 pips above. The H4 candlesticks look increasingly bearish. The last two ones are doji candlesticks, which point to a reversal.
So, it looks quite contradictory. We can go short now or we can wait for the price to reach 20 SMA. We are short on AUD/USD already, so it is up to you guys to make the right decision for yourself.
The USD is looking softer today after the unemployment claims showed a jump to the highest since October 2021 last week
12 hours ago
USD/CAD continues to slide lower, although it stalled to the bottom of the range earlier, after the dive on the 25 bps hike by the BOC
2 days ago