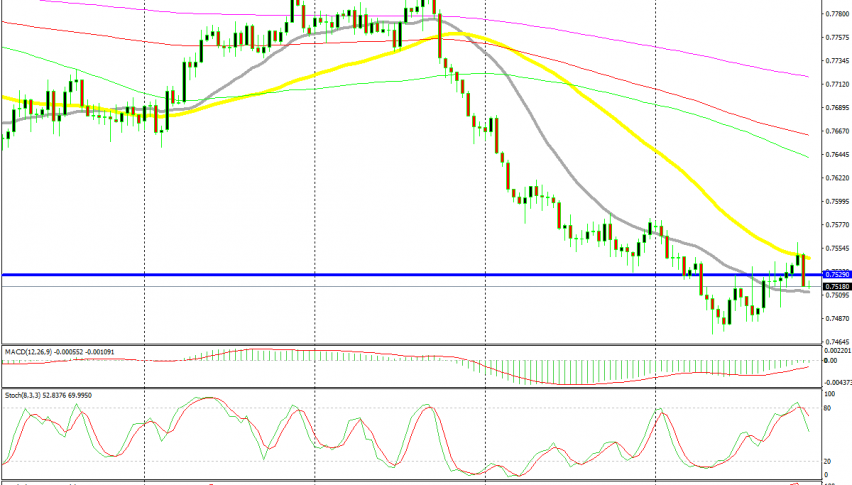 The 50 SMA Saves Our Behind on AUD/USD, Now It's Time to Take Out the 20 SMA
Yesterday we opened a sell forex signal in AUD/USD as this pair was retracing higher. The buyers had been pushing this pair higher all morning, but they were having a hard time overcoming the 20 SMA (grey) on the H4 chart and the previous support level at 0.7530. The trend had been bearish for about two weeks, so we opened that forex signal based on the chart setup.
The price action went according to plan after we opened our signal. But, it missed the take profit target by just two pips. So this forex signal continues to remain open. Eventually, AUD/USD moved higher last night as the USD pulled back to refresh the charts after trending upwards for two weeks.
The price got pretty close to the SL target overnight, but the 100 simple MA on the H1 chart held the ground pretty well. Although, we are using the H4 chart data for this analysis. You can check the hourly chart on your platforms and keep track of its' performance. On the H4 chart, it is the 50 SMA (yellow) that provided resistance.
As you can see from the chart above, the price reversed right at 50 SMA. The moving average entered the game now that it caught up with the price. The stochastic indicator was overbought at that time, so it looked like the retrace upwards was complete. The sellers became active once again and this pair has tumbled around 50 pips.
Stochastic is heading down now and the downtrend seems to be resuming, but the 20 SMA (grey) is standing in the way. This moving average has provided resistance on the way down before and it might turn into support now. Although, it seems like the sellers are in control. If we move below it now, I'm sure we will reach the TP target pretty soon.