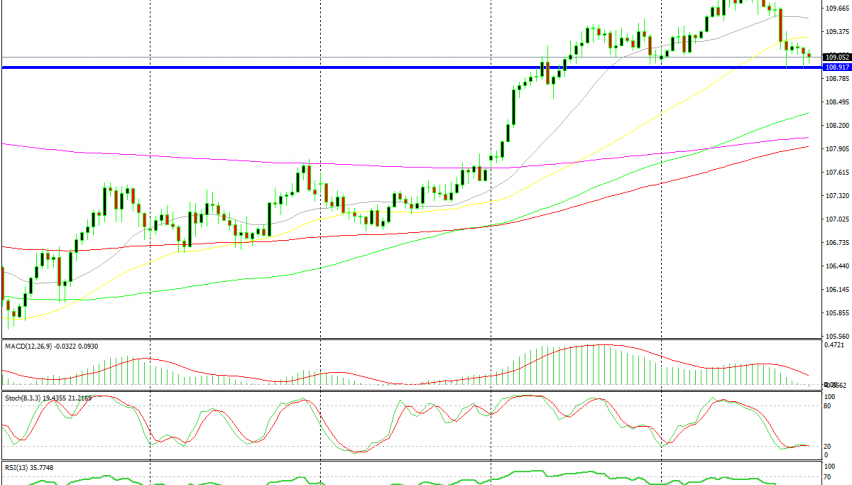 Trying the Long Side on USD/JPY at Support
After scanning the chart for major forex pairs in the last hour or so, I came to the conclusion that there's not really any short term trades to be taken into consideration for the moment, apart from the one, USD/JPY. Commodity currencies made a higher retracement over night which was a good opportunity to sell. But, the retrace came to an end several hours ago and the downtrend has resumed again. That's good for us since we are short on AUD/USD. That forex signal survived the overnight retrace upwards. But, we will take a better look into it on the next forex updates.
Although, as I mentioned above, I spotted a nice opportunity in USD/JPY. This forex pair has been on a solid uptrend for over a month since bottoming out at 104.60s. We have been following the uptrend during this time and it has payed off, since we have had quite a few winning signals here.
We are following the uptrend again today and went long on USD/JPY at 109.07 a while ago. The area around 109 has been acting as support for more than a week. It seems as if it is doing the same job today because the sellers are failing to break and push below this support area.
The stochastic indicator is severely oversold, but we are playing on the price action here rather than the overbought/oversold levels. The last H4 candlestick look like a hammer which is a reversing signal. The pullback is now completed on this time-frame chart and the support is holding, so that's why we went long. Now comes the waiting game, bear with us.