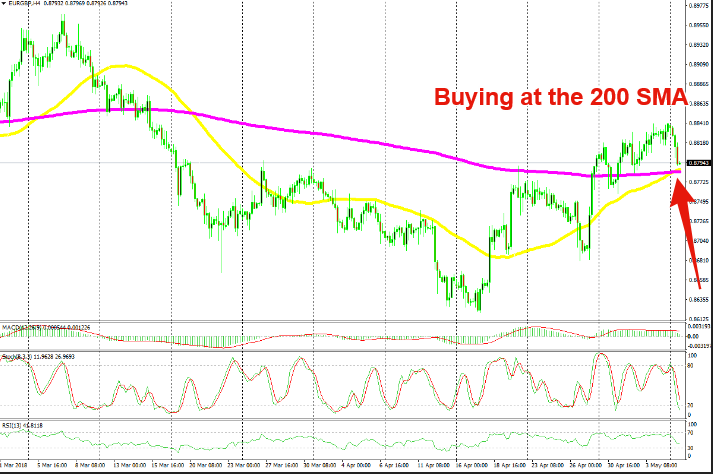 Getting Ready to Go Long on EUR/GBP
I was scanning the charts for a trade and I spotted something interesting in EUR/GBP.  The other pairs are not as interesting to be honest, because all of them are in the middle of a trend, like the USD uptrend, and I hate going in right in the middle of a trend. The risk/reward ratio is not great so I like to wait for a pullback, which might be underway as EUR/USD and GBP/USD retrace higher.
Anyway, back to EUR/GBP. This forex pair has been climbing higher in the last three weeks. The Euro has lost considerable ground against the USD during this time, but the GBP has lost even more ground, which has sent EUR/GBP higher.
Although today, this forex pair is retracing lower as GBP/USD holds well, while EUR/USD loses 70 pips. This pullback has taken us some 50 pips lower from the highs, which looks like a great opportunity to go long.
The price is headed towards the 50 SMA (yellow) and the 200 SMA (purple) on the H4 chart. They both come at the same level which is 10 pips lower from here and I think that this would be a good place to open a buy forex signal.
The stochastic indicator is not oversold yet, which means that the retrace down is not complete yet. So, I'm waiting a bit longer until we reach the two moving averages below. By that time, stochastic will be oversold. I will place a buy pending order down there so I don't have to follow every little move of this pair.