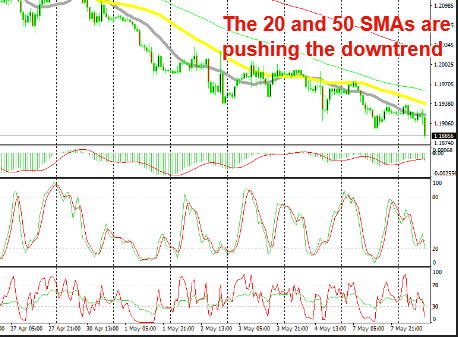 The USD Gets Rolling Again – Sharpen your Knives 
During the past two days, the USD has had one of the best times since January 2017. The Dollar bulls have gotten into their head that this is the time that the Dollar reverses and they are taking no prisoners. We have seen the USD make major gains for a session or two, to then be followed by a consolidation in the next day.
Usually, when the trend is not so strong, forex pairs retrace up. But, the trend is so strong in all major forex pairs, obviously in favor of the USD, that the retraces are just not happening. These retracts are more of a consolidation before the next bullish move.
EUR/USD broke below 1.19 yesterday and made a small pullback in the evening. But, the buyers were once again met by the 20 SMA (grey) on the hourly chart. You can see on that chart that during the last week or so, the moving averages that have been in play are the 20 and the 50 SMAs (yellow). As we know, the smaller the moving averages at play, the stronger the trend.
The GBP/USD buyers put up a tougher fight. They pushed above the 20 and 50 SMAs on the H1 chart and reached the 100 SMA (green). We opened our sell forex signal right there at that moving average last evening. It proved to be a good decision since our signal just hit the take profit target. We can't say the same about our AUD/USD signal, unfortunately.
We made a mistake that we didn't close that signal manually yesterday for 15-20 pips as I said I would. I know you can't win them all, but sometimes you can actually, when the market is predictable. The market has been quite predictable during this time and we have had a good run with signals. So, let's wait for another USD pullback before going long again.