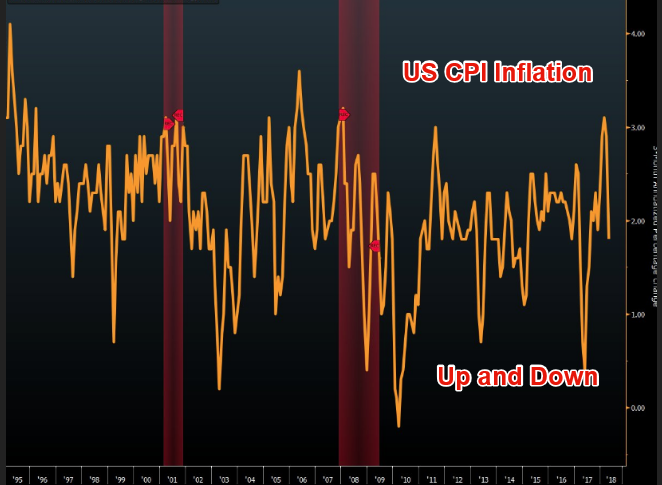 USD Falls on Soft US CPI Inflation but Starts the Recovery Again
The US CPI (consumer price index) report was published a while ago. The market was really interested to see what the CPI inflation looked like in April after the negative PPI (producer price index) inflation yesterday.
The headline number for April was expected at 0.3% but came out at 0.2%. The core monthly CPI number, which strips out food and energy, came at 0.1%, against the 0.2% expected. That was not all, the annual year-on-year numbers deviated from expectations but at least they were mixed. The main yearly CPI number came at 2.5%, just as expected a tick upwards from the previous 2.4%. The core number came at 2.1% against the 2.2% expected. Although, it remained unchanged from last month.
                                            Actual     Consensus
CPI MoM              –      0.2%         0.3%
Core CPI MoM    –       0.1%         0.2%
CPI YoY                –       2.5%         2.5%
Core CPI YoY      –       2.1%          2.2%
As you can see, almost all the actual numbers are lower than the economists' consensus. So, inflation is not picking up as expected, after all. All sectors of the US economy are doing pretty well, except for inflation and wages to some degree.
The USD retreated and lost around 60-70 pips across the board. That was in fact overdue after such a strong uptrend in the last few weeks. But, the decline stopped after about an hour and the USD bulls are back on track. They have recuperated some of the losses. Although, after today's data I see the uptrend lose some steam. I think it's time for a decent retrace lower for the USD before the next assault.
If the pullback happens, I see 1.20 or even 1.2150 in EUR/USD. If this forex pair gets up there, I think that we will get persuaded to open a long-term sell forex signal. But, let see what the market wants to do first, whether it really wants to make a decent retrace higher or not.