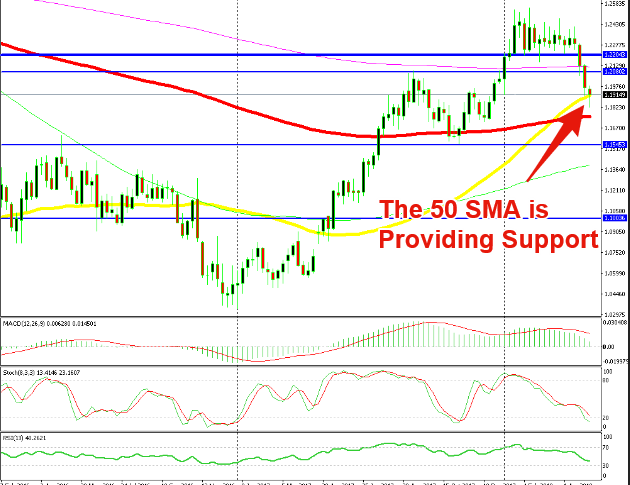 EUR/USD Starting the Overdue Pullback
The reversal in EUR/USD has become famous. I can't say that we were caught by surprise by this move though. This pair was finding it harder to push to the resistance area around 1.25. The highs were getting lower and the bottom of the range at 1.22 was looking increasingly weaker.
What's surprising is the strength with which this reverse has unfolded. This pair has had three consecutive lowing weeks and this one is still bearish. During this period EUR/USD has lost around 600 pips.
But, right now, it seems like the bearish move might have reached its' limits. The stochastic indicator has oversold now, which means that the retrace is complete. The last time stochastic was oversold was back in October last year. EUR/USD started the next bullish move after the retrace was over.
We don't know whether this latest bearish move is just a retrace or an actual reversal. But it has run its' course on every timeframe chart beside the monthly one. The price broke below the 50 SMA and reached 1.1820, but it is back above now. If the weekly candlestick closes above it, then it is likely that this moving average might turn into support and reverse the price back up. As we said, stochastic is oversold so it makes sense.
The reverse has already started on the daily chart
If you switch to the daily chart, you can see that on Thursday, the daily candlestick closed as a doji. The doji is a reversing signal. The chart pattern gets even more bullish when the doji is followed by a bullish candlestick such as the one from yesterday.
So, all signs point to a bullish reversal. The disappointing CPI inflation numbers yesterday are also in favour of this scenario. The targets are 1.20, 1.21 and 1.22, if the reverse happens. I'm not taking this trade because the decline was quite ferocious as we said, but will look to sell at one of those levels.
EUR/USD should break below 1.06 this week with the business climate and inflation softening further in September
2 hours ago