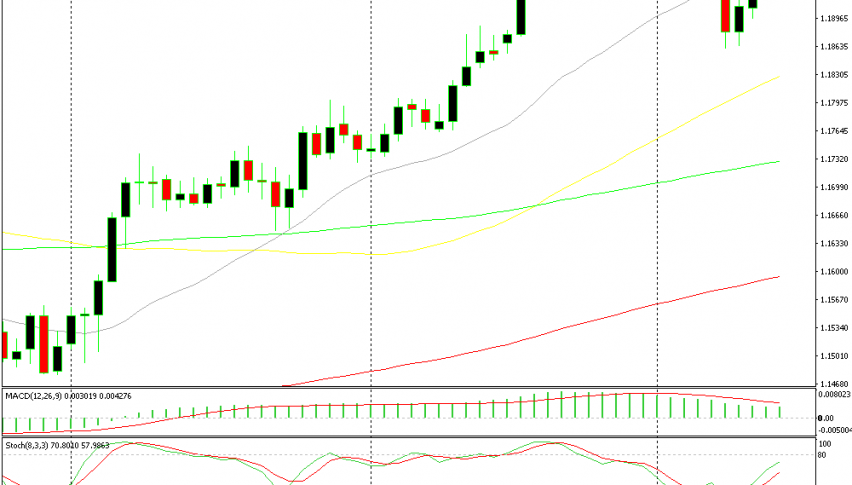 EUR/CHF Fails at 1.20 Again. Time for the Big Reverse?
EUR/CHF has been trading just below 1.20 for about a month after the big bullish move which lasted for over a year. Although, it failed to break above this major level despite the strong bullish momentum. Last Tuesday, the safe haven currencies caught a bid and this forex pair tumbled around 140 pips lower. That was a sign that the buyers weren't going to have a free lunch anymore.
The 1.20 level was the line in the sand for the Swiss National Bank (SNB) for three years, before they decided to throw in the towel. So, it is a really important level for this pair.
EUR/CHF made its way back up to this level, but it failed to break above it again. You can see that the daily candlestick looks like an upside-down pin. The wick is pretty long, which is a bearish reversing signal if it closes like this today.
Although, the biggest bearish sign is the rejection below 1.20. The buyers tried a second time to break this major resistance level, but it seems like they are failing. This would discourage the buyers. If the big level refuses to let go for the second time, it means that buyers might pack up their bags now and leave their positions for good.
If that's the case, then we will likely see a major pullback lower from here. I don't know how far deep this might go, but this sort of price action points to that. Besides, the stochastic is almost overbought and the daily candlestick is looking bearish. But, I will wait until tomorrow to see if I can get a better entry price higher up for a sell signal, so we'll be back tomorrow with this pair.