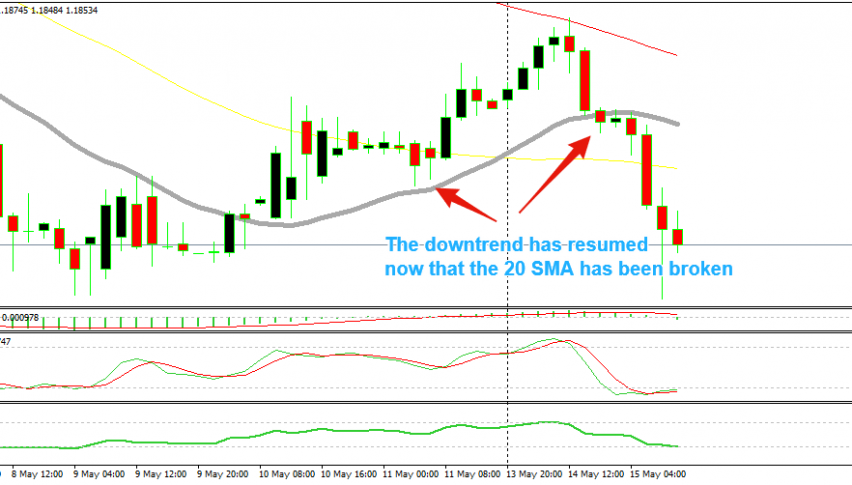 Looking to Sell the EUR/USD Pullback
After retracing higher for several days, EUR/USD made a decisive move today. It broke the 100 SMA (red) on the hourly chart and the 20 SMA (grey) on the H4 chart. The 20 SMA had been pushing this pair up during the retrace, so now that it has been broken, we can say that the bearish trend has resumed.
Although, in the last couple of hours we have seen the Buck give up some gain. GBP/USD has gained 70 pips during this time while EUR/USD has claimed 50 pips back.  What do we do on such occasions? We're looking to sell the pullback.
Just like trends, the pullbacks can be violent. That's why we have to wait for them to be over before embarking on a trade. To me, the pullback in EUR/USD seems to be over. Not from the charts themselves, because the H1 chart is not overbought yet as stochastic suggests and the H4 chart is really oversold.
The bearish reversal has already started
But, the price action is telling us that the buyers are giving up around here. They pushed back up 50 pips quite fast but in the last two hours they haven't been able to make new highs. This is a sign of exhaustion from the buyers.
The last two candlesticks closed as dojis which are reversing signals after a pullback. This means that EUR/USD is about to reverse back down now after the pullback. Well, we just opened a sell forex signal in this pair and the price action looks promising. Let's go for another ride now.