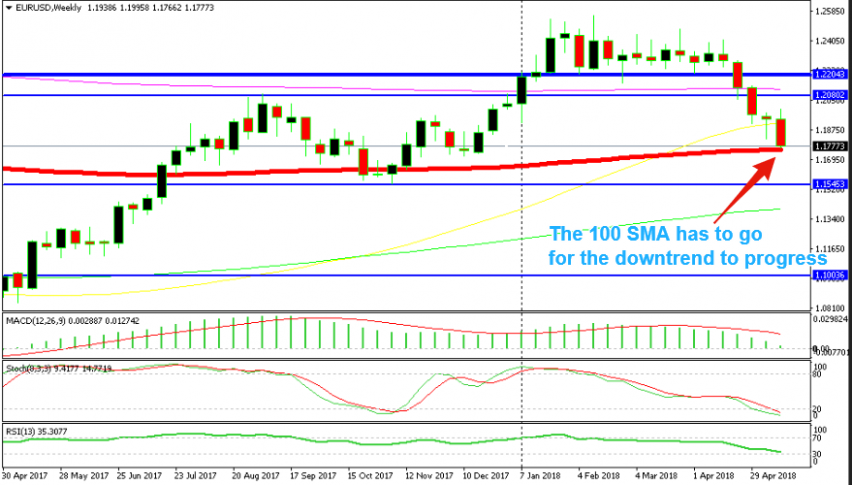 One Last Obstacle in the Way for EUR/USD Sellers
EUR/USD has made a major reversal. It has been trading on a tight range between 1.2 and 1.25 for several months after trending up for more than a year, but last month it started a major turnaround which has been going on for several weeks now.
As you can see from the forex chart above there have been five consecutive bearish weeks including the current one. Last week seemed worrisome for EUR/USD sellers. The price pierced the 50 SMA (yellow) but it returned back above and the daily candlestick closed as a pin.
That pin was a reversing signal, of course. The bigger trend is still bullish, so the bearish move of the last several weeks was just a retrace. The 50 SMA was resisting and the candlestick formation pointed to a bullish reversal, that's why it was worrying for the sellers.
But, the USD resumed the uptrend yesterday and the 50 SMA was broken pretty easily. So, that bullish chart formation from last week has gone to the rubbish bin now.
That's good news for EUR/USD sellers and USD bulls. In fact, now it seems like the trend might have shifted for real. Perhaps EUR/USD has entered a bearish phase which has reversed the trend. The next target should now be the area around 1.15.
Although, there's one more obstacle in the way for sellers now. That obstacle is the 100 SMA (red) which stands around 30 pips lower. The ECB president Mario Draghi is live now, so perhaps he will give this pair the push it needs to overcome that obstacle. Let's get this forex update posted quickly and see what Draghi has to say.
The USD is looking softer today after the unemployment claims showed a jump to the highest since October 2021 last week
1 day ago