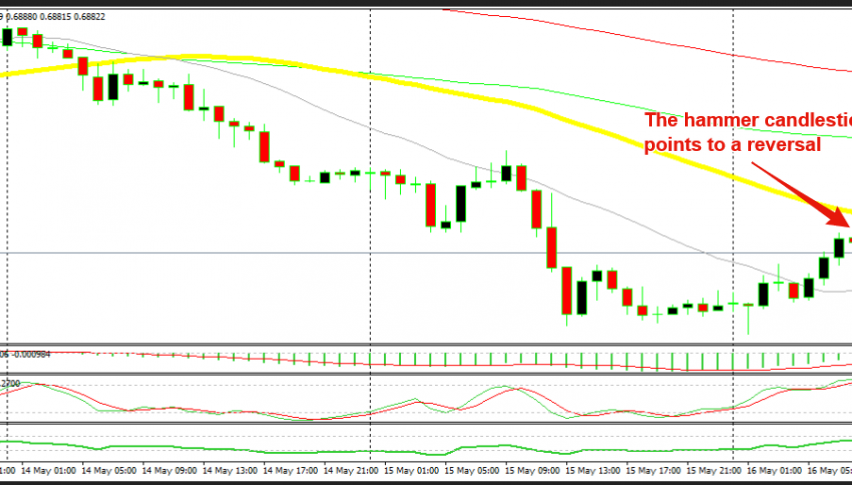 Shorting NZD/USD After the Soft Australian Wages This Morning
NZD/USD has been on a strong downtrend for more than a month. Yesterday, the downtrend picked up pace for this pair as the USD resumed the uptrend. We had a couple of winning signals in NZD/USD and in AUD/USD.
Speaking of the Aussie, the wages came a bit soft early this morning. The consensus was that wages would increase by 0.6% this quarter, but the actual number came at 0.5%. The figures for the last quarter of 2017 were revised slightly lower as well, so it was a soft earning reports from the land down under.
Commodity currencies have been under pressure lately and this report didn't help the matters either for them. We already had a bearish bias for commodity currencies given the bearish trend in AUD/USD and NZD/USD and today's wages report from Australia strengthened this bias for us.
Although, we don't like to go long or short on a financial instrument right in the middle of a trend, we wait for a retrace before going in with the flow. So, we waited for a retrace up in NZD/USD before shorting it. The retrace completed its course a few minutes ago, so we sold this pair.
How do we understand the retrace is complete?
The stochastic indicator is overbought, that indicates overbought and oversold levels. Besides that, the previous candlestick closed as a hammer/doji, which indicates the end of a trend and a reversal. The buyers are not pushing higher, so I think that it is time to go short on NZD/USD, which we did.
We must have a back up plan as well for a forex trade just in case things go wrong. The back up plan for us was the 50 SMA (yellow). It has provided support and resistance before, so if the buyers get any funny ideas in their head, this moving average will protect our position. The chart formation looks bearish now, so hopefully we won't need the 50 SMA to save us.