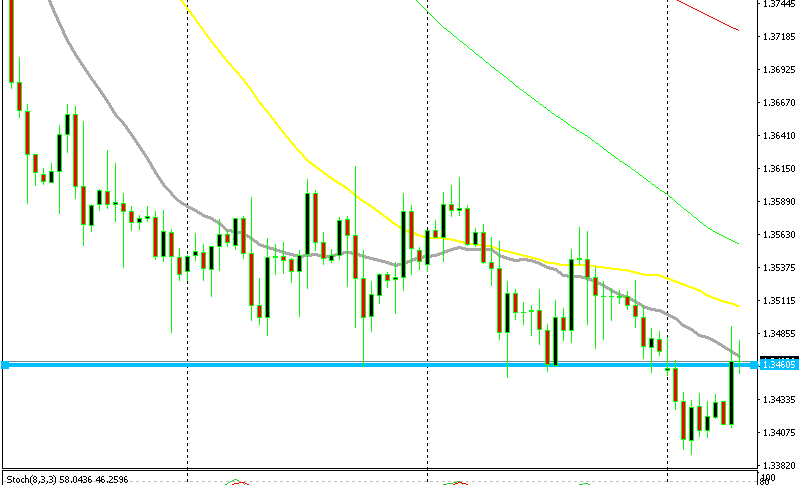 Two Signals to Attack GBP/USD from the Top
The Bank of England (BOE) is now speaking about inflation and economic activity in the UK. From what I am hearing, they have accepted the hickup that the British economy is having at the moment and the cooling inflation.
GBP/USD was trading at just below 1.35 when the BOE members started reporting but the price retreated to 1.3450 once the soft comments hit the wires. GBP/USD dived back below the 20 SMA on the H4 chart and we decided to take the trade there.
So, the first indicator which signaled this trade for us was the 20 SMA (grey). It has provided resistance to this pair previously on the way down and it is likely to do the same again now. The previous H4 candlestick did close below it, which means that GBP/USD traders are aware of that indicator.
The second signal came from the support level at 1.3450-60. This area provided solid support for about two weeks. But, it was broken yesterday and now is turning into resistance.
This forex trade looks good, both, fundamentally and technically. But, the market is still trading the USD at the moment and that is what worries me. EUR/USD is still climbing while USD/JPY is sliding, although GBP/USD is having difficulty moving above the 20 SMA, so hopefully, we will get back into the market with some winning forex signals today.