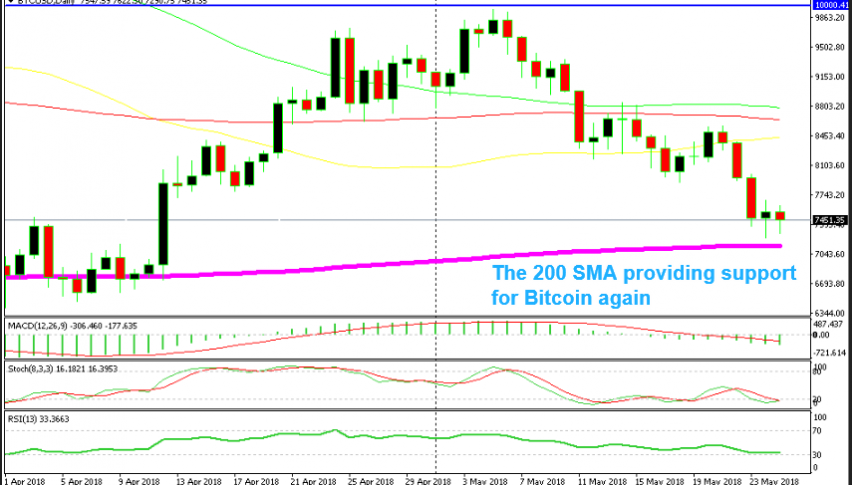 A Ray of Hope for Bitcoin Buyers and the Crypto Market
The Downtrend
Cryptocurrencies were on a bullish run throughout April. But, the trend shifted in the first week of May and since then we have seen cryptos decline week after week. There have been a couple of weak attempts to reverse the trend or at least form a retrace. But, the downtrend has continued and Bitcoin has lost nearly $3,000.
Bitcoin was trading just below the big level of $10,000 at some point earlier this month, but now it is trading above $7,000 according to my crypto broker. So, the picture has been pretty bearish for cryptocurrencies but there's a ray of hope for crypto buyers.
The 200 SMA
Bitcoin almost reached the 200 SMA (purple) on the daily chart. That moving average has been providing support to Bitcoin the entire year. It stopped the ferocious freefall at the beginning of the year and it did so again about two months ago.
The Hammer Candlesticks
The price got close to this moving average yesterday but it pulled back up, closing the daily candlestick as a hammer. The same sort of price action we are seeing today, so it seems as today's candlestick will close as a hammer too. Hammers are reversing signals just like dojis and the more of them the merrier.
It means that the sellers are trying the downside but the buyers are not letting go. If the buyers keep pushing up, the sellers will tire out and give up eventually, that's the logic behind the price action of the hammers.
The day is still young, there are about 8 hours left until the daily candlestick closes. But, if it closes as a hammer, then that would be a signal to buy Bitcoin for those who are out. We have a long-term buy signal here so we are not adding to that trade. We might decide to buy Ethereum or Litecoin instead, so stay tuned for a forex signal on cryptos later on today guys.