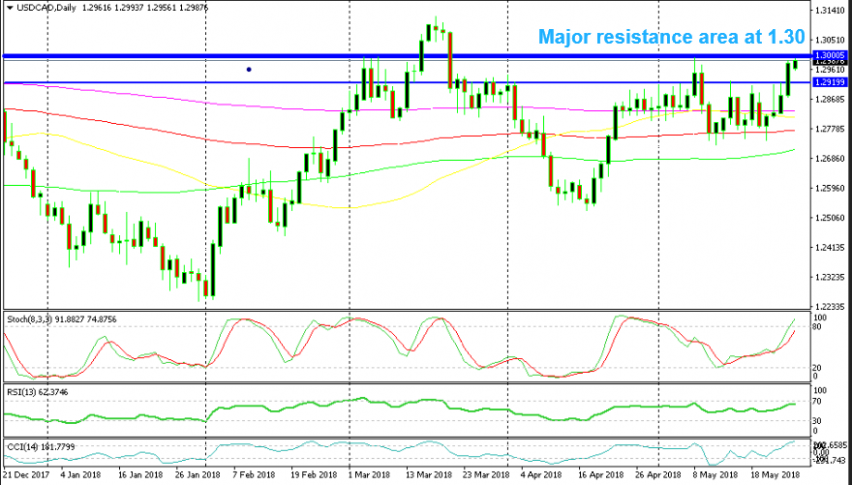 One Major Resistance Level Gone in USD/CAD, the Next One Comes Into Play
On Friday, we posted an update about USD/CAD. This forex pair had been trading between 1.2750 and 1.29 the entire month, apart from the time when the buyers pushed the price up to 1.2997. So, the resistance at 1.29 has been very strong during this period.
Although, it looked like this solid resistance level was going to go that day. Oil prices were tumbling lower and they have lost $5 since then. The CAD and Crude Oil prices are closely correlated since Canada is a major Oil exporter. OPEC members said that they are going to increase the Oil output and that weighed on Oil and on the Canadian Dollar.
So, the first major resistance at 1.29 finally had to let go. The daily candlestick on Friday last week is worth more than 100 pips. Once the 1.29 was broken, the bulls gained more confidence and we saw a jump to 1.2980.
That is just below 1.30, which is the next big resistance. The price has been hanging below 1.30 since then but USD/CAD hasn't been able to move above it. Oil prices have lost an additional $2 today which should have sent USD/CAD further up. As we said, USD/CAD has been hanging around these levels since Friday afternoon, which means that this level is already providing resistance, otherwise, this pair would be 100 pips higher today.
1.30 has provided resistance back in March and again at the beginning of this month, so it is a strong level. Oil prices have been recuperating in the last several hours, but that doesn't seem like a reversal to me, not yet. If a reversal takes place, then USD/CAD would reverse back lower. But, this pullback in Crude Oil looks complete now. If it turns lower again, USD/CAD is likely to break above 1.30. So, I think it would be better to sell Oil right now than to sell USD/CAD.
USD/CAD continues to slide lower, although it stalled to the bottom of the range earlier, after the dive on the 25 bps hike by the BOC
2 days ago
Crude Oil has been bearish for more than a year, but this week we saw a decent reversal higher on higher Caixin manufacturing
6 days ago