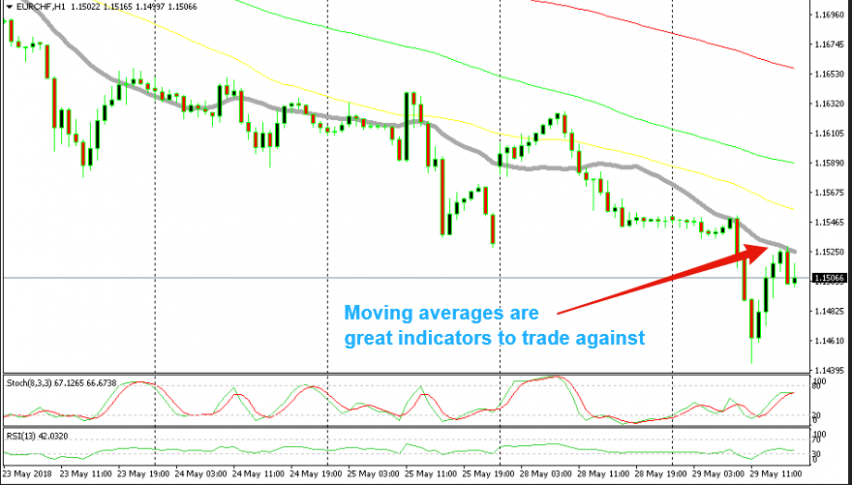 If Everyone Is Making Pips Selling EUR/CHF, We Can Too
EUR/CHF has made such a turnaround in the last two weeks. Two weeks ago it was trading just below 1.20, threatening to break above this long term support and resistance level. Today it is trading around 500 pips lower and at some point, it was 550 pips lower.
The first thing that strikes you when you look at the EUR/CHF chart is the steep downtrend during this time. The pullbacks have been really weak. The biggest pullback took place yesterday when the markets opened with a gap higher. That pullback was worth 100 pips, but the sellers returned with even more force.
This is a really strong bearish trend and there's no sign of it ending soon
It took this forex pair about nearly three months to climb from 1.1440s to 1.20. Now it took only two weeks for the sellers to send EUR/CHF back down to those levels. This sort of price action shows that the sellers remain in full control.
The major signal that the uptrend was going to reverse a couple of weeks ago was the fact that 1.20 wasn't letting go. This has been a major support level several years back and it lasted for more than a few years. The Swiss National Bank (SNB) had EUR/CHF pegged at this level for years. Once it was broken, all hell broke loose. Now, it has turned into a solid resistance area.
So, that was the sign that the trend was going to change. Well, the trend has changed as you know and we are trying to make a few pips here and there like everybody else.
EUR/CHF made new lows today in the morning, but in the last several hours it retraced higher. The retrace was complete two hours ago when the stochastic indicator became overbought, so that was a good opportunity to get in with the flow. Besides, the 20 SMA (grey) was providing resistance on the H1 cart. We opened a sell forex signal at 1.1529 and closed it on profit a while ago. It was an easy trade which worked out fine for us. If you are a registered member with us, then you should have made some good profit from this forex signal.