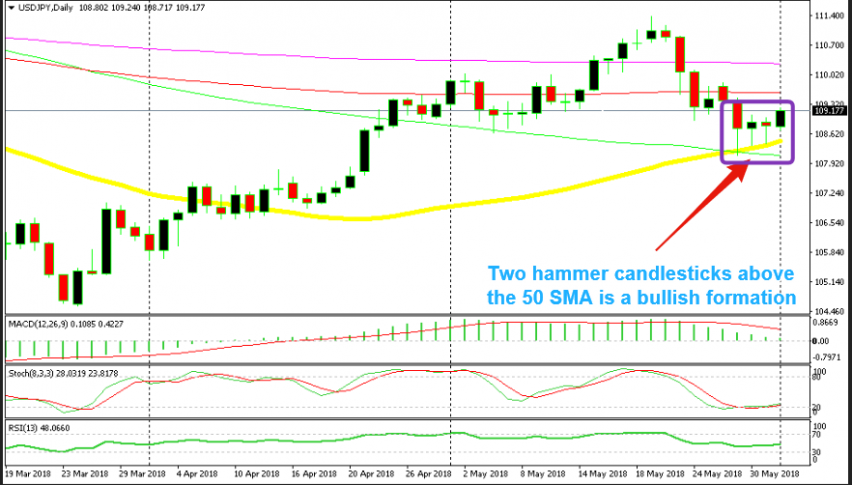 Time to Embark on the Long Side of USD/JPY As It Forms A Bullish Chart Setup
USD/JPY has been slipping lower in the last couple of weeks. The JPY is a safe haven so this forex pair tends to dive when the market sentiment deteriorates, which is what we have seen during this period. It has lost more than 300 pips during this time, so it has been a respectable fight from sellers.
But if we look at the bigger picture, we see that USD/JPY is still on an uptrend. The uptrend started in late March and it has been going on for more than two months now. USD/JPY has climbed from 104.50s to 111.40s, which means a 700 pip move.
In the last two weeks though, this pair has moved 300 pips lower. But, this move seems more of a retrace to me than a reverse. With this in mind, we have to see the picture from a buyer's perspective. That isn't really difficult when the chart looks pretty bullish.
As we can see from the daily USD/JPY chart above, the pullback has been respectable, but the trend is still bullish for this pair. It retraced lower in the last two weeks but the decline stopped right at the 50 SMA (yellow). This moving average seems to be providing support now.
The candlesticks of the last two days have formed two hammers which are reversing signals. Besides, the stochastic indicator is oversold, which means that the retrace is complete.
Bullish trend on the daily chart
Oversold stochastic indicator
The 50 SMA providing support
Two hammer candlesticks
A bullish daily candlestick so far today
There are five indicators which are pointing up now. So, the conclusion is that USD/JPY is resuming the uptrend after the pullback in the last two weeks which refreshed the charts. This seems like a good opportunity for those who want to go long on this pair.