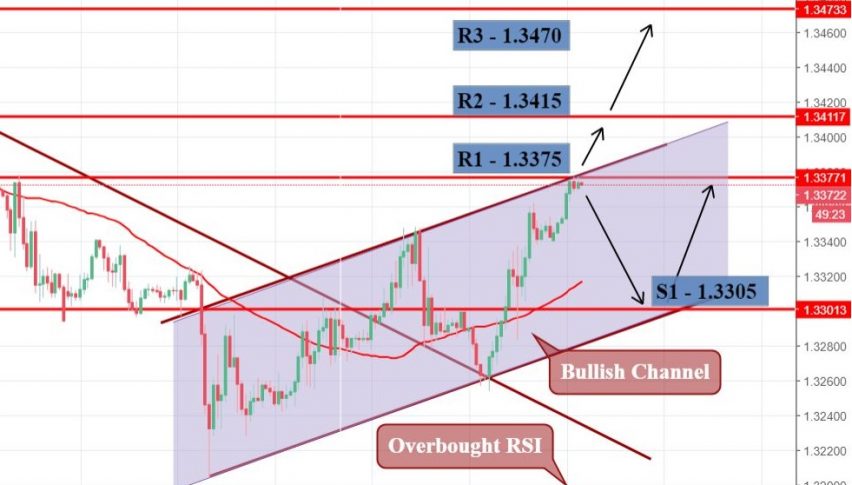 June 4 – Economic Events Outlook – All Eyes on UK Construction PMI
Posted Monday, June 4, 2018 by
Arslan Butt
• 2 min read
The UK Construction PMI seems to be the only economic event that could cause market fluctuation today. Additionally, there could be volatility today as most investors will be looking to price in the US labor market figures which were released on Friday. So, the dollar is likely to remain supported.
Watchlist – Top Economic Event
In the absence of market-moving economic events, investors usually trade the most recent high impact economic event. It's Monday morning, so our only option is the US labor market data.
On Friday, the US employment report was quite surprising because the unemployment rate slid to 3.8% from a forecasted 3.9%. Also, the U.S. economy added 223K jobs, compared to an estimated 189K. Despite the surprising data, the dollar didn't strengthen much because most of the positive data was already priced in.
In the absence of any top-tier economic event, investors may start pricing in the US labor report.
Great Britain Pound – GBP
Construction PMI – A leading indicator of economic health. Businesses react quickly to market conditions, and their purchasing managers hold the most current and relevant insight into the company's view of the economy. This typically drives 30 – 50 pips into the market.
Looking at the forecast, the constructions PMI seems to show a slight drop from 52.5 to 52. But, despite a weaker forecast, we can't expect a dip in sterling as the PMI figures are compared with a benchmark of 50. Above this, the economy is growing. Nevertheless, it will be exciting to trade any figure below 50 today.
GBP/USD – Bullish Channel In Play
Let me draw your attention towards a bullish channel setup on the hourly timeframe. The Cable is trading right below the upper trendline resistance level of $1.3375. You can see a candlestick pattern 'tweezers top' which is a bearish pattern in nature.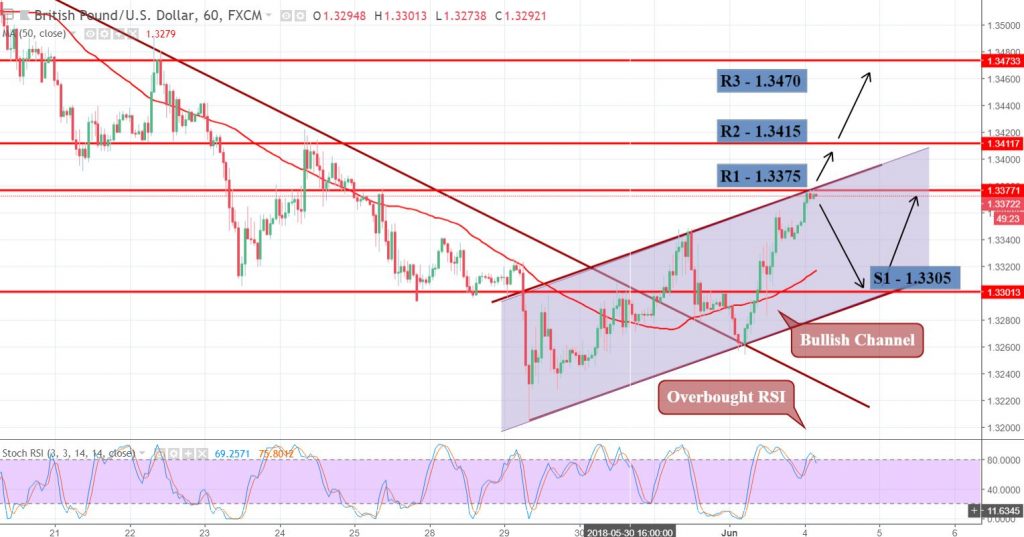 GBP/USD – Hourly Chart
The RSI and Stochastics are in the overbought area, implying that the market is already at the top and sellers may dominate the market for correction.
GBP/USD –  Key Trading Levels
Support     Resistance
1.3343           1.3357
1.3339           1.3361
1.3332           1.3368
Key Trading Level:    1.335
GBP/USD – Trading Plan
Investors are advised to keep a close eye on the small trading range from $1.3350 to $1.3375. The idea is to stay bullish above $1.3375 and bearish below $1.3350, to target 50 pips on both sides. Let me add, the breakout is likely to be at 8:30 (GMT) when the Markit releases the construction PMI data.
Keep following for forex trading signals and updated trade ideas. Good luck!