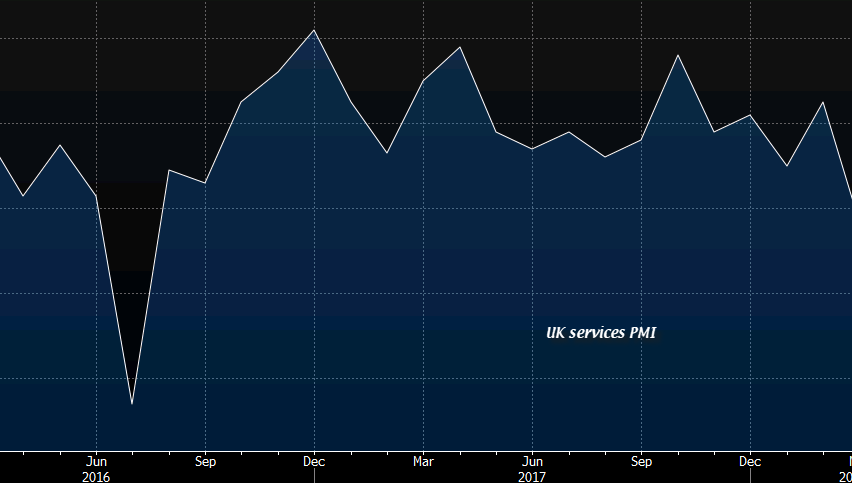 The British Economy Might Be Turning As UK Services Pick Up
Yesterday we had a chance to see the UK construction numbers. They came out slightly better than expected. Although at 52.5 PMI points, this sector is still a bit soft at the moment. But that was a sign that today's services report might be positive as well.
The services report was published a while ago and it was positive. Last month's reading was 52.8 PMI points, while this month it was expected at 52.9 points. It came at 54.0 PMI points, so it beat expectations – which shows that this sector is back in a decent shape.
It is not a really great number, but it comes after a few months of horrible economic data reports from the UK. The winter period might have had some impact on the British economy, hence the negative numbers in the last few months. But the market was fearing that Brexit was starting to have its full negative effect on the British economy.
Well, Brexit was responsible for the softening of the economy in the last several months and I'm sure this won't be the end of it. I'm afraid we will see some more negative numbers from the UK as Brexit approaches. Brexit means walking on an uncharted territory and financial markets don't like that.
But for the moment, the nerves have settled somewhat. The service sector makes up 4/5ths of the British economy so it is a very important sector. It shows the overall health of the broader economy. Services picked up this month and GBP has taken off. It jumped 60 pips higher after the report was released and it is still climbing. Our GBP/JPY buy signal just hit the take profit target and the EUR/GBP sell signal is very close to that target too. So, this report has gone in our favor.