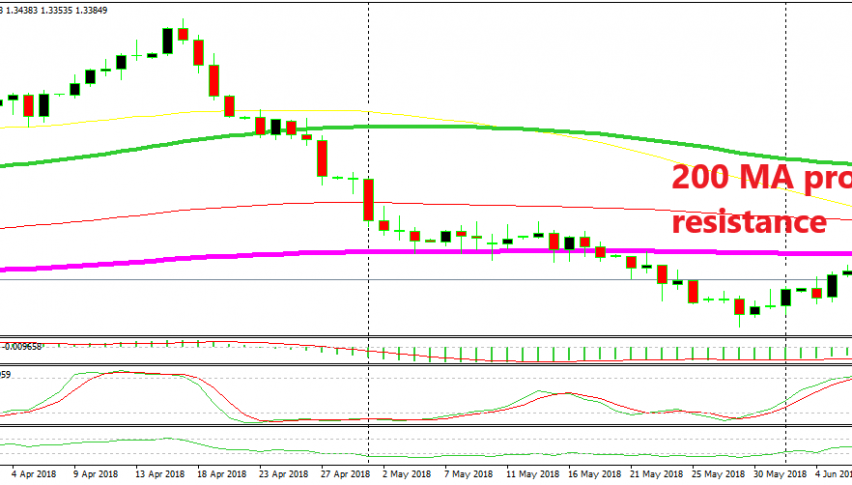 When Fundamentals and Technicals Come Together at the Same Time
GBP/USD has been on a strong downtrend since mid-April. It lost nearly 12 cents during that period, but it has been retracing higher in the last several days. The bearish move was quite strong, so the trend is on the downside.
As is the case with trends, they unfold in waves. The first wave down took place between April and late May, and the retrace has formed during this week. Although, it now seems as the retrace might be up. The technicals are pointing down and so are the fundamentals.
Technicals
So, we agree that the trend is down, right? That's the first bearish sign. As you know, the best way to trade a downtrend is to wait for a pullback up and then sell when the pullback is over. The retrace might already be over and the next bearish move looks to be underway.
The stochastic indicator is overbought now, which is the main signal that the pullback is complete. Now stochastic is turning down. Besides that, the 200 SMA (purple) provided resistance yesterday. That moving average stands at 1.3490 and the price reversed right below it.
Another bearish sign and probably the strongest is the doji candlestick. Yesterday's candlestick closed as a doji and we know that the doji is a reversing signal. The chart pattern gets even more bearish when the doji is followed by a bearish candlestick like the one we are seeing today.
Fundamentals
The fundamentals are looking bearish for the GBP as well. It is strange how often the fundamentals and technicals fall in line, but it does happen. Yesterday, we heard British officials comment about the Brexit backstop. Today, EU's Brexit negotiator Barnier said that the backstop cannot extend to the whole of the UK for as long as it lasts.
He said that the "UK needs to be more realistic about what is possible" and that the "EU isn't going to get intimidated by the blame game". He also said that "the UK ministers seem nostalgic about the EU; they want all the benefits but without being bound by the rules".
Well, that has been the game the Brexiteers have been playing. They want to get market access and whatever comes with it but they don't want to contribute anything. So, the picture looks bearish for GBP/USD on both fronts. It might be a good opportunity to start building short positions on this pair.