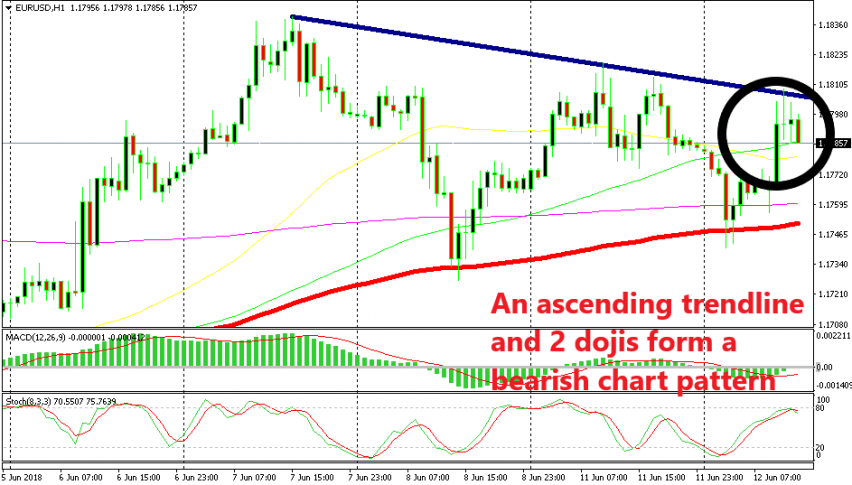 Ascending Trend Line in EUR/USD
EUR/USD had traded on a strong bearish trend for about two months, but it reversed in the last week of May. It has been climbing higher since then and the price broke above 1.18 last week. EUR/USD has been moving up and down above and below this level since then, although, the buyers couldn't push too far above 1.18.
We saw EUR/USD reach 1.1840 last Friday, 1.1820 yesterday and the highest level so far today has been 1.1810. Connecting the recent highs, we see that a descending trend line has formed in this pair.
The lows have been getting higher as well, but that has been forced on this pair by the 100 SMA (red) on the hourly chart. The descending highs seem more natural since there is no indicator to push the price down.
This sort of price action shows that the buyers are giving up lower. The price formed two doji candlesticks on the hourly chart which are reversing signals. The stochastic indicator is also overbought and is starting to turn lower. It's for this reason that we opened our sell forex signal in EUR/USD.
The daily chart is also overbought according to the stochastic indicator. So, it seems as the retrace higher is complete now and the next leg of the bigger trend, which is bearish, is about to resume soon. Well, we have to get ready for a long term sell signal here. I was expecting to see 1.20 or 1.21, but the buyers might throw the towel right here.