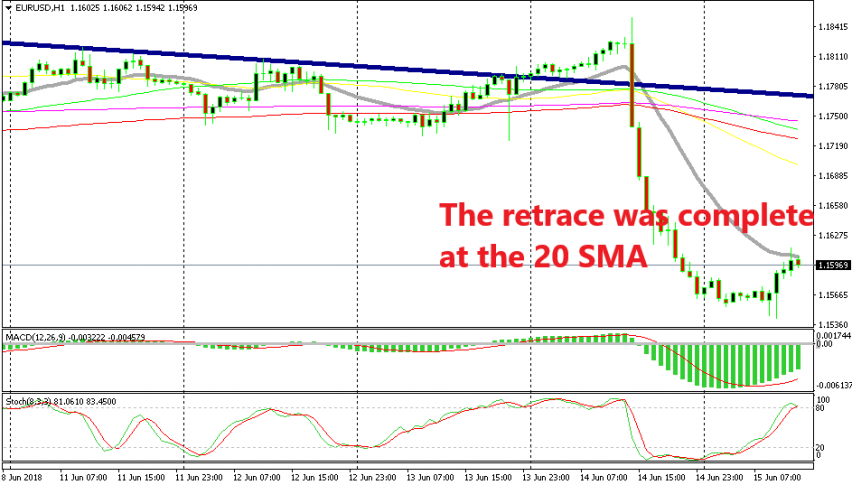 Selling the Pullback in EUR/USD
Yesterday, the Euro took a dive after the press conference from ECB's president Mario Draghi. Draghi is known to be a Euro dove but the Euro started diving even before the press conference started. The ECB statement which was released with the refinancing rate decision, was pretty dovish too and that's when the Euro started tumbling.
EUR/USD lost 300 pips from top to bottom. Although, it didn't come all from the side of the Euro. The US retail sales report was pretty impressive yesterday and that came after several other great economic reports from the US recently. So, it had a positive impact on the USD which means it was bearish for EUR/USD.
Having seen the bearish momentum in this forex pair, we decide to go short. But as is the case with me on such strong trends, I usually wait for a pullback before going in with the trend. The pullback has taken place this morning as EUR/USD retraces higher.
EUR/USD has retraced 70 pips higher from 1.1540s to 1.1615. The 20 SMA (grey) comes right at that level and we decided that this was the target for the buyers. Buyers and sellers always have a target. The target was reached and the stochastic indicator became overbought at the same time.
After observing the price action for about an hour, we saw that the price was having trouble moving above the 20 SMA so we decided to open a sell forex signal right there. Now the price is slipping lower so our signal looks good.