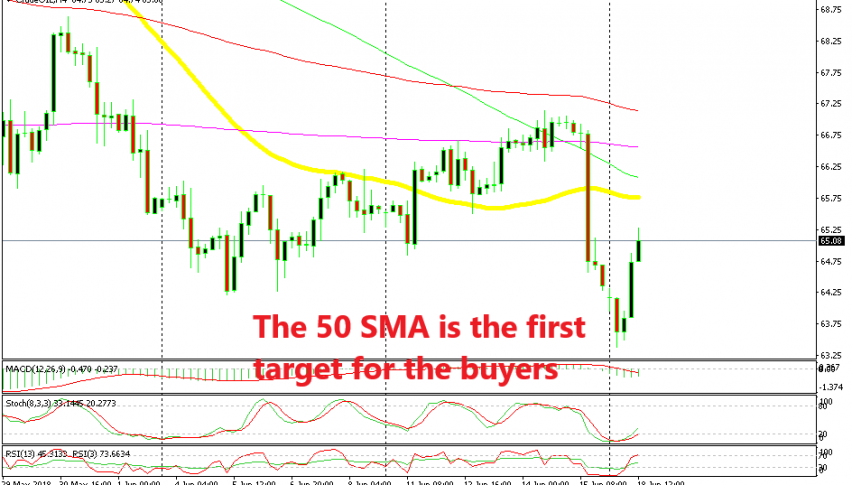 WTI Oil Putting Up A Respectable Fight on OPEC
Crude Oil has gone through some rough times in the last 2-3 weeks. It had been on an uptrend for a long time and was trading just below $73 at the end of May. But, the price reversed and tumbled down in only a few days, losing $7.
It traded in a range for a couple of weeks after that, although the sentiment was still bearish. Last Friday, we saw another dive in Oil prices, although, this time it was as a result of USD strengthening.
Today, we are seeing Oil buyers put up a fight which so far looks pretty decent. If you have missed it, we highlighted the OPEC situation in our midday brief. OPEC and non-OPEC Oil producing countries are pushing to increase the Oil output.
The market was expecting an increase of around 1-1.5 million barrels. But, some OPEC members don't want to increase the output since it would put pressure on Oil prices which have already been declining recently, as we mentioned above.
Some other countries such as Venezuela, can't increase Oil exports regardless of the output because of sanctions. So, they don't want the other countries to increase the output.
This has lowered expectations regarding increasing the output to 300-800k barrels. This is still quite a wide range but no one can be too sure right now. We know how these OPEC meetings go – there's no trust between the members. I mean, Iran, Saudi Arabia, Russia etc. They all sort of hate each other.
Nonetheless, WTI crude Oil has recuperated some ground today. It started the day with a small gap lower and it lost $1 in the early hours of the morning, but it started reversing up on the comments for a smaller output increase. Now Oil is trading just above $65.
The 50 SMA (yellow) is standing at $65.80 and the 100 SMA (green) is catching up quickly, so I think that will be the first obstacle on the way up. It might be reversing levels as well, where Oil turns bearish again. So, it looks like a good level to look for shorts up there. Well, we have to wait until the price reaches the 50 SMA, don't we?