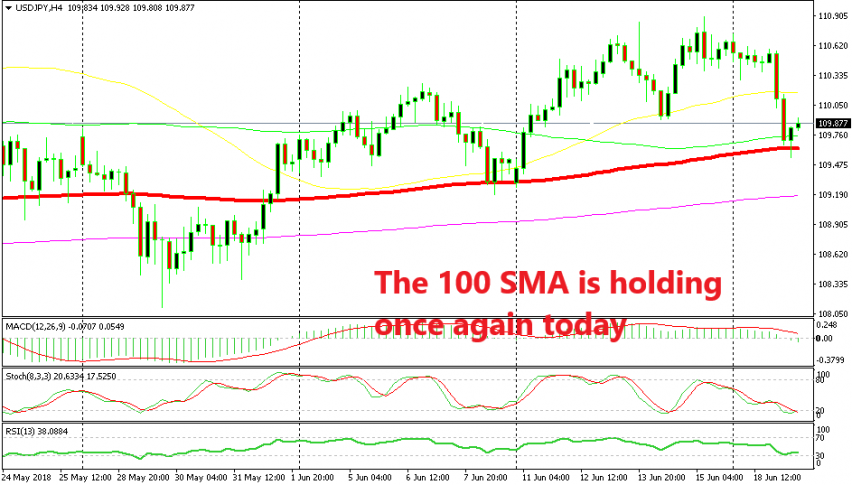 USD/JPY Finding Support at the 100 SMA
The market sentiment has turned negative in the last two days and USD/JPY is diving as the Yen is receiving some strong bids. The JPY is a safe haven currency and as such, it rallies strongly when the market sentiment is negative.
USD/JPY started sliding lower yesterday in the morning, but the decline stopped short. Today, the decline resumed again and this forex pair has lost 100 pips in the early hours of the morning. The reason for the sentiment deteriorating is the trade war that Donald Trump has opened.
Last week, US officials declared new tariffs on Chinese products which account for $100 billion. China retaliated with tariffs on US products worth around $50 billion. The market sentiment turned negative at the end of last week after the new trade battles and it seems like it is continuing this week as well.
USD/JPY lost 100 pips this morning, but it stopped right at the 100 SMA (red) on the H4 chart. If you check the daily chart, you can see that the 100 SMA comes at the same level as in the H4 chart, so this moving average is holding USD/JPY on both timeframe charts.
This moving average has acted as support previously which makes you think that it will do the same again now. It stopped the decline and the price has bounced 40 pips higher. The stochastic indicator is also oversold and turning up. Although the bounce has already happened, so if we go long here, the stop loss will be pretty wide. Besides, the sentiment is still negative. So, I think it will be better to wait for the market sentiment to improve before taking a trade on the long side.