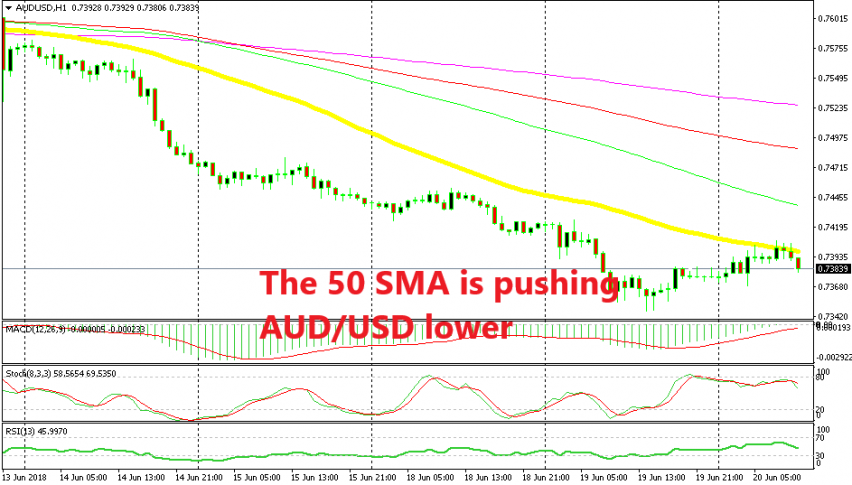 AUD/USD Turning Bearish at the 50 SMA
The USD has been charging ahead in the last several days, although it consolidated in a tight range yesterday. Some of the major pairs formed a small retrace yesterday which peaked late last night or early in the morning today.
I couldn't open a trade during the night but I'm taking my chances now. After scanning the charts, I decided to pick AUD/USD to trade. This forex pair has been retracing up since last afternoon and it peaked this morning a few pips above 0.74.
The target for the buyers seems to have been the 50 SMA (yellow) on the hourly chart, which comes at 0.74. This moving average was pierced a few times but that doesn't count as a break because the hourly candlesticks didn't close above it. So, we're considering that moving average as a resistance indicator.
It did provide resistance this morning. The attempts to break above it failed and the price is turning lower now. Two hours ago the price formed a doji candlestick and the following candlestick looks like an upside down hammer. Both these indicators are reversing signals.
Besides that, the stochastic indicator has become overbought. That means that the pullback higher is complete and the downtrend should resume again soon. So, we decided to sell AUD/USD below the 50 SMA and it seems like the price is heading in our direction now. We have a few open forex signals, so we hope to have a good run with them today,