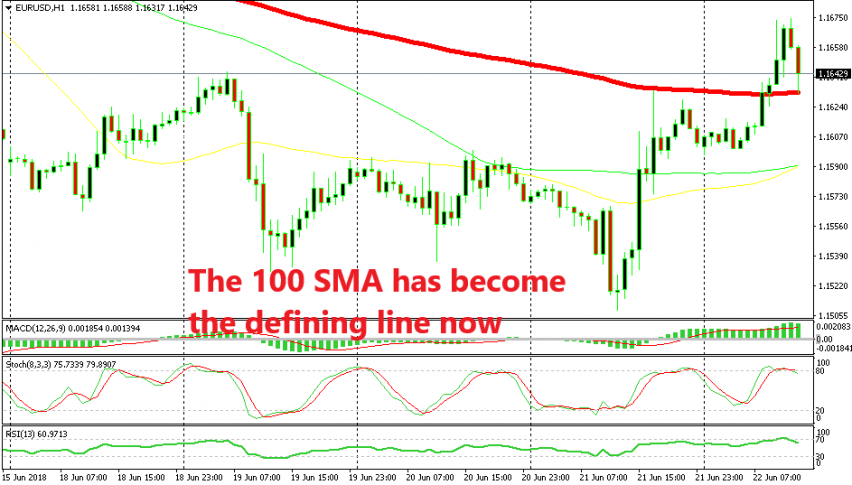 Better Service Numbers Send EUR/USD Above the 100 SMA
Yesterday the USD was charging ahead during the European session. As a result, EUR/USD headed towards the support level which comes at around 1.15. These major support levels have a buffer area around them, so I expect the support zone to stretch from 1.1480s to 1.1520s.
EUR/US reached as low as 1.1510 but failed to take the support out once again. In the US session, the US Philly FED manufacturing index took a dive and the USD started losing ground. Investors started thinking that the US trade war might hurt business, so they started drifting away from the USD.
Another factor for the reversal was the failure to break the 1.15 level by itself. When a major support level holds, the market usually turns the other way until the sellers return and bring the price back down. Yesterday in the US session, the market started to reverse and EUR/USD moved above 1.16.
Today, the climb has been stretching further up and the price broke above the 100 SMA (red). The Eurozone services report came out much better than expected today. The services PMI number was expected at 53.7 points, but came at 55 points and that sent EUR/USD higher.
Although, this pair has retraced lower and it is trying the 100 SMA again, but this time from the upside. Now this moving average is the defining level. If the price moves below it, then it is likely that it will slip further. If not, then I expect some more upside, probably until 1.17.
EUR/USD should break below 1.06 this week with the business climate and inflation softening further in September
1 hour ago