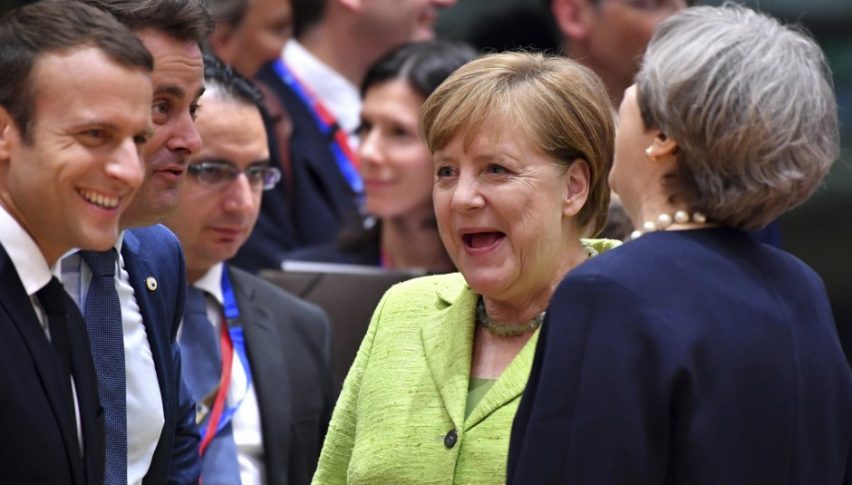 Forex Signals US Session Brief, June 22 – EU Immigration and OPEC Meetings Take the Attention
The markets have been experiencing a negative mood for the last two weeks. As a result, safe havens have received strong bids with EUR/CHF and USD/JPY diving lower. But, the markets reversed yesterday and the reversal has stretched further today. I have heard some forex analysts say that the market sentiment has improved but that doesn't seem to be the case to me. While risk currencies have been rallying strong against the US Dollar, the JPY rallied as well, sending USD/JPY around 100 pips lower. So, it is more of USD pullback lower after trending higher for weeks, rather than a shift in the market sentiment.
The OPEC meeting is continuing in Vienna. There are contradicting comments coming out but an agreement on Oil output might be near. Another important meeting is taking place in Brussels where the European leaders are discussing immigration and what is to be done to fix this whole mess. Merkel has a two week deadline to find a solution and if she doesn't, then new elections are an option in Germany, probably in early autumn. Next week is definitely going to be terrible for the Euro in my opinion if the political situation goes in that direction.
The European Session
Eurozone Manufacturing PMI – The German and French flash manufacturing PMI came lower than expected, but the Eurozone manufacturing PMI came right on expectations at 54.0 PMI points, down from 55.5 last month. The US manufacturing came lower yesterday too, so perhaps Trump's tariffs are already starting to work, bringing the worst for everyone.
Eurozone Services PMI – The services PMI was better though. It came at 55 PMI points, up from 53.8 last month. Although, manufacturing is the Achilles' Heel in Europe.
OPEC Agrees in Principle – Sources from the OPEC meeting report that an agreement in principle has been reached. The agreement is for a 1 million barrel increase which will be divided among the member countries. Iraq, Iran and Venezuela don't look too happy, but they might get in line.
Positive Comments from Italy – Italy's economy minister Giovanni Tria said today that Italy wants to respect the deficit rules by EU. Earlier on, we heard Borghi say that Italy has no plans on abandoning the Euro. This is a bit of a relief and it should support the Euro.
Merkel's Party Is Preparing for New Elections – Angela Merkel has a two week deadline to find a solution for immigration, otherwise there will likely be new elections in Germany. The EU leaders are meeting in Brussels to discuss immigration but Merkel's SPD party is preparing for new elections. Perhaps there won't be an EU-wide deal on immigration. This is negative for the Euro.
The US Session
Canadian CPI Inflation – The CPI (consumer price index) inflation was expected to grow by 0.4%, up from 0.3% last month. This month's number came at 0.1% which is terrible. It is the lowest number since January and it is a head dive, which of course is a bad sign for the Canadian economy.
Canadian Retail Sales – The retail sales report was another negative economic report from Canada. Sales declined by 1.2% which is the biggest fall in more than two years. Core retail sales also declined by 0.1% while expectations were for a 0.5% growth. This is the second negative month, so nothing looks good in Canada right now.
Belgian NBB Business Climate – The business climate has taken a hit with Trump's tariffs and trade war. As a result, this indicator has declined from around 2 points at the beginning of the year. The economic slowdown in winter has also affected the business climate. It is expected at 0.0 points today, down from 0.2 points last month. Let's see if the business climate has deteriorated further after the latest tariffs.
US Flash manufacturing PMI – This will be another interesting report to watch. Yesterday, the US Philly FED manufacturing index took a dive, so perhaps the US manufacturing sector is also trembling. It is expected to come at 56.4 points.
Trades in Sight
Bullish NZD/USD
The trend has turned bullish
The retrace down seems complete
The 100 SMA is providing support
Stochastic is almost oversold
NZD/USD is finding support at the 100 SMA
We opened a buy forex signal on this pair a while ago. The trend has turned bullish now, at least in the short term. NZD/USD retraced lower in the last few hours but the 100 SM (green) is providing solid support. Besides, stochastic is nearly oversold so the retrace looks almost complete.
In Conclusion
The Canadian retail sales and inflation CPI took a hit today. The Canadian Dollar also took a hit sending USD/CAD above 1.33. My colleague Shain is covering the Canadian data today, so have a look at his article on the matter for a better understanding.