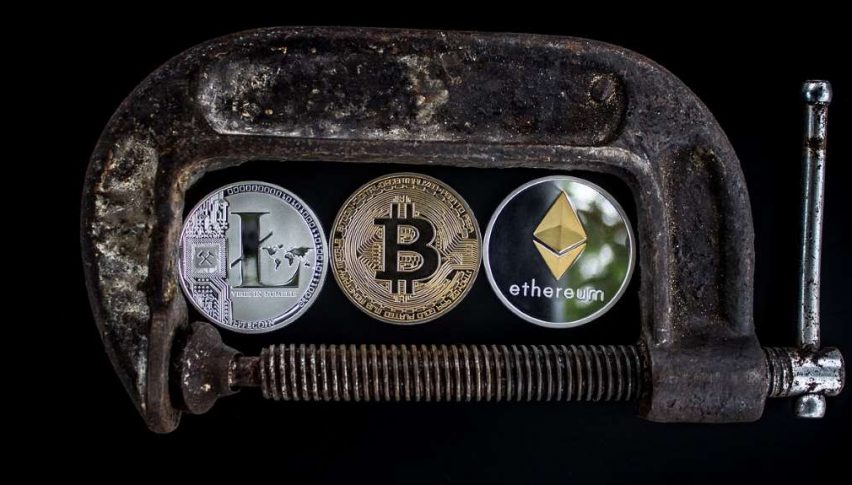 Cryptos Lose $17 Billion, Bitcoin Headed To $5000
Friday marked a brutal day in the history of cryptocurrency trading. All major coins took a beating, losing US$ billions in marketshare. Rumors swirled around Ethereum (ETH). Bitcoin (BTC) crashed. By the time the dust cleared, even the most dedicated cryptocurrency bulls were left shaking their collective heads.
What Is Going On With Cryptos?
The problems began in earnest Thursday, with intense scrutiny from Japanese regulators and the admitted hack of South Korean exchange Bithumb.
Japan, South Korea, and the United States are mainstays of the cryptocurrency marketplace. Estimates have 60% of the volume on cash exchanges coming from Japanese participants alone. Disruption to any of these three markets can send crypto values tumbling. The June 20 hack of Bithumb did exactly that. Here are the details:
An estimated $30 million was stolen from customer wallets.

Bithumb has stated that it will reimburse clients from cash reserves.

The Korea Internet and Security Agency has launched a full investigation.
In addition to Bithumb, Japan's Financial Services Agency (FSA) sent improvement orders to six major exchanges. Citing money laundering schemes and the funding of terrorist activities, the FSA effectively stopped new account registrations for bitFlyer, Quoine, BTC Box, Bit Bank, Tech Bureau, and Bit Point.
China also had a busy Friday. Regulators seized over 200 BTC and ETH mining platforms for stealing electricity. While not a huge deal, it certainly did not help sentiment among traders.
Friday's Fallout
The end result was a disaster on the cryptocurrency markets. For Friday's trade, the entire asset class lost 11.5% — an estimated $17 billion in a single 24-hour day.
Touted by many as the next Bitcoin, Ethereum(ETH) has been a bright spot for investors. Boasting nearly 50% year-over-year gains, ETH is widely viewed as a blue-chip crypto product. ETH was not spared the carnage, and along with BTC, was among the hardest hit.
Here is a look at the 24 hours metrics facing the big four coins, Thursday evening through Friday evening:
Coin                            Percentage Loss    Key Number Crossed
Bitcoin(BTC)                          -7.5%                           $6500
Bitcoin(BCH)                          -8.5%                           $750
Ethereum(ETH)                     -7.7%                            $475
Litecoin(LTC)                         -7.8%                             $85
The percentages lost are significant. Perhaps even more important are the key numbers crossed. At press time, BTC is trading in the neighborhood of $6100, only $100 above the pricing of summer 2017. BTC is off 60% thus far this year, with the key numbers $15000, $10000, and $7500 falling by the wayside. One has to think that the next benchmark on the docket is $5000.
The picture is bleak across the entirety of the asset class. Of course, that can change at the drop of a hat. In the 24/7 cash market, we may see a rally out of nowhere at any time — that is the nature of cryptos.
A Look At Bitcoin(BTC)
BTC did not fare well amid the challenging news cycle. After a bullish bump from mid-week announcements regarding SEC licensed ICO trading, BTC closed the week down 5%. The daily chart for June BTC futures says it all.
If you are a technician, then this chart is for you. The failure for BTC to rally above the current wave's 38% retracement is textbook trend confirmation.
Secondly, the weekly opening GAP that occurred on June 11/12 has not been filled in or even tested. It is rare for a GAP to not be challenged. This one went unchecked — price simply fell away.
What Do We Really Know About Cryptocurrencies?
I am not convinced that anyone in the world understands the true fundamentals of cryptocurrency trading, or what a hard-bottom for the asset class will look like. Is a long-term bottom $5000 BTC? ETH at parity with the Greenback? Your guess is as good as mine.
Nonetheless, as of June 23, 2018, here is what we do know about trading cryptos:
Do not ignore the rumor mill. Rumors drive participation and price reacts violently.

No physical assets exist. There is absolutely nothing behind the value of cryptocurrencies, only consumer confidence and potential applications.

Cryptos, as well as blockchain technology, are still very much in their infancy.

News over regulation, be it pending or enforced, send bulls running for the door.

Round numbers are exceedingly important support and resistance levels.
To sum things up: Cryptos are a rumor/news driven product with no physical backing, new to the world of finance. Any takers?
Bottom Line
Don't get me wrong on the cryptocurrency products. Not only is the potential surrounding blockchain technology massive, cryptos are fantastic for active technical trading. My skepticism and questions surround how these assets are valued.
For now, BTC remains the barometer for all cryptocurrencies. At some point in the near future, I expect a prolonged test of the $5000 level. Price will consolidate above and below this number before making a definitive move north or south. As of now, the ultimate direction for BTC has yet to be determined.
So, what is a cryptocurrency, Bitcoin or otherwise, really worth? In my opinion, very little — at least in theory. Of course, assets are worth what someone will pay for them. In the crypto space, pricing has the tendency to become periodically exorbitant as we ride the cycles of euphoria and panic.
I assure you that there is no shortage of takers for $5000 BTC. But will this level be the turning point long-term bulls are looking for? If not, names like Enron, Lehman Brothers, and Nokia come to mind.