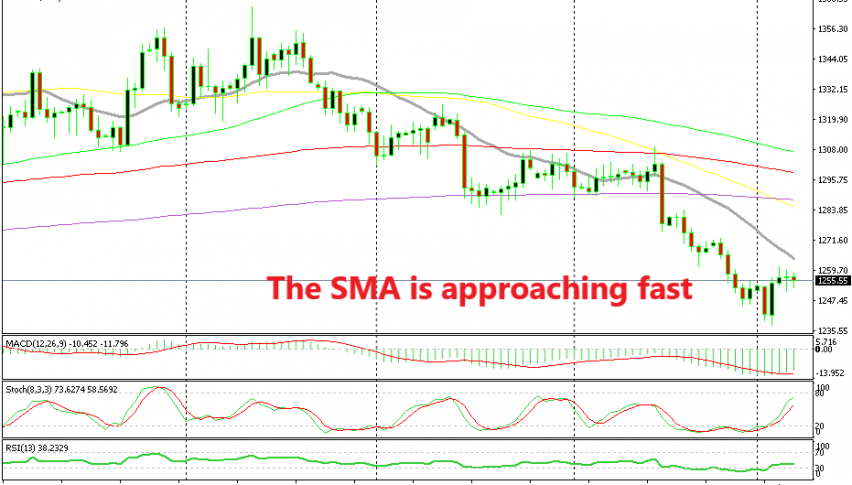 Gold Forming A Bearish Chart Setup
Gold entered a bearish phase in April when it made a turnaround lower after having traded in a bullish trend for more than a year. Last month, the bearish trend picked up pace and Gold broke some decent support levels.
But, the decline stopped right at the 50 SMA on the monthly chart. The sellers closed their trades and in the last few days we have seen a retrace take place in Gold. On Tuesday, Gold formed a bullish engulfing candlestick which was a signal for a decent retrace in the following days.Stochastic is also almost overbought.
The retrace has been slow though, it hasn't kept up with the reversing signal that we received on Tuesday. Nonetheless, it is a retrace and the stochastic is approaching overbought levels now. We see that the retraces have ended when stochastic has neared these levels. Now Gold is in the same position, so the retrace should be over soon, according to the chart history.
Besides that, the 20 SMA (grey) is approaching fast. This moving average provided resistance in May and the other moving averages have done so on the way down. Now that the downtrend has picked up pace, the 20 SMA is coming back into play. Once the 20 SMA meets the price, I think that the retrace will be over. By that time, stochastic will be overbought, which will be the perfect chart setup for sellers. Although, I think that we will have to wait until Monday because I don't think we will see a major move today.
Yesterday the CPI numbers from European countries showed a slowdown, so today's headline Eurozone inflation numbers should be soft as well
3 days ago