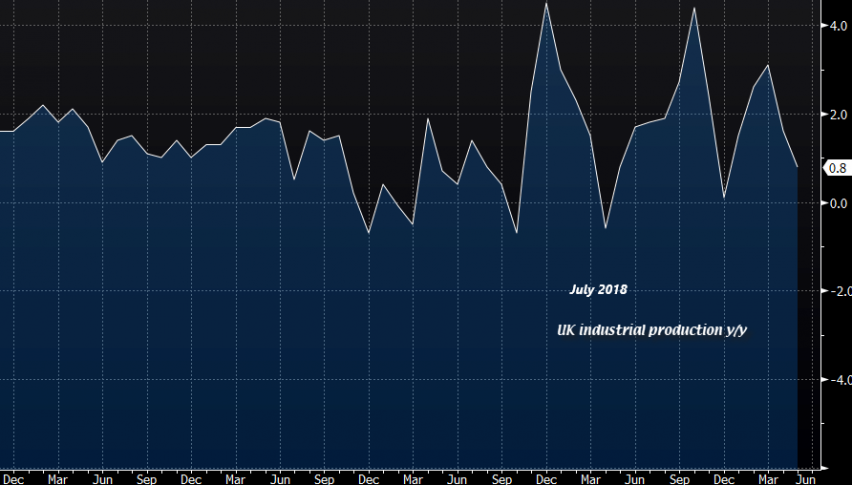 GBP/USD Getting Ahead of Itself, but Now Sliding After the GDP Report
GBP/USD surged higher this morning when the European trading session started. The GDP report was about to be released and after a few positive data releases from the UK, forex traders tried to precede another positive economic report by getting long on GBP/USD.
That move came after this forex pair lost 160 pips yesterday as some of the UK ministers resigned. Notably, David Davis and Boris Johnson who were strong Brexit supporters. The price action in GBP pairs yesterday was confusing because the GBP rallied when Davis resigned, but then tumbled lower when Johnson did the same.
Anyhow, GBP/USD recuperated some of the losses in the afternoon and this morning the buyers gave it another push to the upside, hoping to see another positive economic report. Now, after the GDP reort was published, GBP/USD finds itself 60 pips lower.
The GDP report wasn't particularly bad, it came at 0.3% month-on-month and the quarterly GDP figures came at 0.2%, both of which were in line with expectations. The index of services also came as expected at 0.4%.
The manufacturing production came at 0.4% when it was expected at 1.0%. The industrial production on the other hand, declined by 0.4% and last month's number was revised lower to -1.0%, from -0.8%. So, the GBP turned bearish after the report, but I think that is more due to the fact that the GDP numbers weren't more upbeat as the market was expecting, rather than a reaction from the softer manufacturing and industrial production numbers.
UK MoM GDP – 0.3%
UK QoQ GDP – 0.2%
UK Industrial Production – -0.4%
UK Manufacturing Report – 0.4%