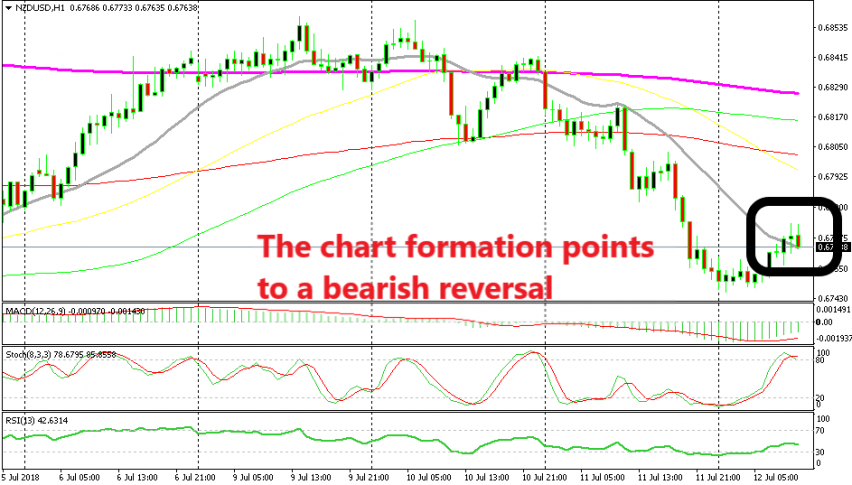 Shorting NZD/USD on A Bearish Chart Formation
NZD/USD has been on a strong downtrend yesterday and this morning it has retraced higher. But, a bearish reversal is forming on the H1 chart, so we decided to take a shot at this pair after we freed some capital as the EUR/CHF signal hit the take profit target a short while ago.
In fact, NZD/USD started turning bearish earlier this week. But yesterday, the downtrend picked up considerable pace as the USD buyers gained confidence. This morning though, most major currencies have been retracing higher.
NZD/USD is retracing as well, although the retrace seems pretty weak, so we decided to take this opportunity and go short on this forex pair. The trend is bearish and it is pretty strong, which puts us on the right direction.
When we opened out signal, the 20 SMA (grey) was providing some resistance to NZD/USD. The price has crept above the 20 SMA now but it is still hanging around there, so the break is not complete until the price moves considerably higher.
If that happens, the first decent level of resistance stands at 0.6780. Above that, we have the 50 SMA (yellow) and the 100 SMA (red) coming at 0.68. The stochastic indicator is another sign which is pointing down. It is overbought on the daily chart and it is turning lower now.
But, the biggest signal for us is the bearish candlestick setup. The price formed a doji two hours ago, which is a reversing signal after a retrace. The following candlestick closed as a bearish one. That strengthens the bearish reversing pattern. Here are the bearish signals:
The trend is bearish
Stochastic is overbought
Bearish candlestick formation
The 20 SMA is still casting a shadow on buyers
The sentiment is still dovish