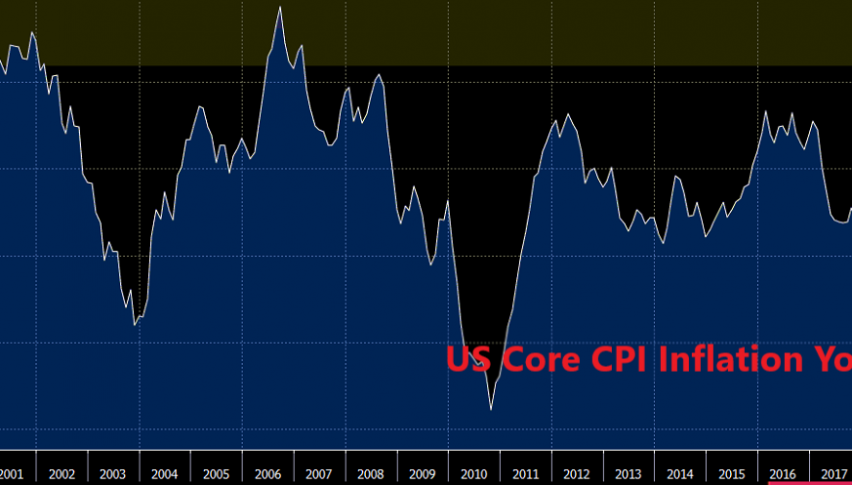 USD takes A Hit After the Inflation Report
The USD was in a middle of a bullish move just a while ago when the US CPI inflation report was published. In fact, the bullish trend started yesterday and the USD climbed nearly 100 pips across the board. The reason for that move was that the market was expecting some strong inflation numbers from the US today, according to rumours that have been circulating in the forex world.
So, the Buck was in the middle of the next bullish move, but it reversed after the report. Actually, the CPI (consumer price index) inflation report wasn't really bad. The headline monthly number was expected at 0.2% and it came at 0.1%, but that was the only miss.
The core inflation number came as expected at 0.2% month on month. The yearly numbers ticked higher; the headline ticked higher to 2.9% from 2.8% previously and the core yearly figure also ticked higher to 2.3%, up from 2.2% previously.
The earnings figures were the ones which hurt the USD. Real average weekly earnings came at 0.2% down from 0.3% previously and the real average hourly earnings came at 0.0% from 0.2% previously. Everyone has their eyes on inflation and wages. Inflation is keeping up, while wages continue to lag all the time.
That's not a good sign when the unemployment keeps falling and it is way below the natural unemployment rate which should be at around 5%. Hence, the US Dollar has lost some ground but this could also be a good opportunity to buy it, probably sell EUR/USD as I highlighted in the midday brief, or sell GBP/USD.