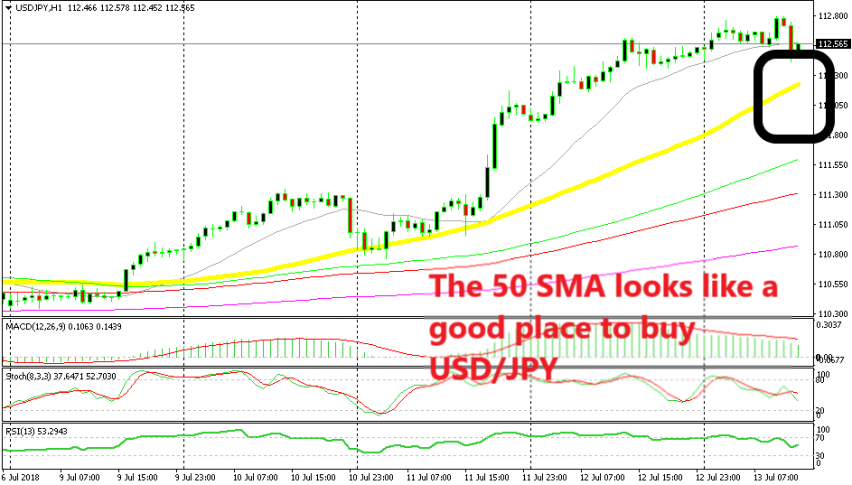 Getting Ready to Go Long on USD/JPY on This Pullback
Safe-haven currencies have been battered lately, in particular USD/JPY. In fact, all major currencies have been suffering as the USD keeps advancing session after session. The advance has been in waves as it is usually the case with such trends.
I wrote during last weekend that the Dollar index had formed a bullish reversing pattern. Now, nearly a week later, the USDX is much higher and the safe-haven currencies have been the ones to feel that the most on their shoulders.
Risk currencies have been declining as well against the USD. But when the Euro is considerably lower against the Buck, the CHF is even lower as EUR/CHF is 100 pips higher.
The JPY has been one of the main losers in this game during this time. I heard this morning that the Bank of Japan (BOJ) might accept defeat on inflation this month when they hold the usual meeting. Well, it's about time; they have done all they could and inflation hasn't been moving higher in Japan. That might send the JPY both ways, but for now, it is on the back foot.
So back to trading USD/JPY: this pair has slipped lower in the previous two hours after making new highs this morning. The price is approaching the 50 SMA (yellow), or the 50 SMA is approaching the price if you wanna see it that way. This looks like a good opportunity to go long on USD/JPY.
Stochastic is also approaching the oversold area and the trend is really bullish. So, if the 50 SMA catches up with the price, then I will be persuaded to go long, but we still have to wait until then, which might come pretty soon.