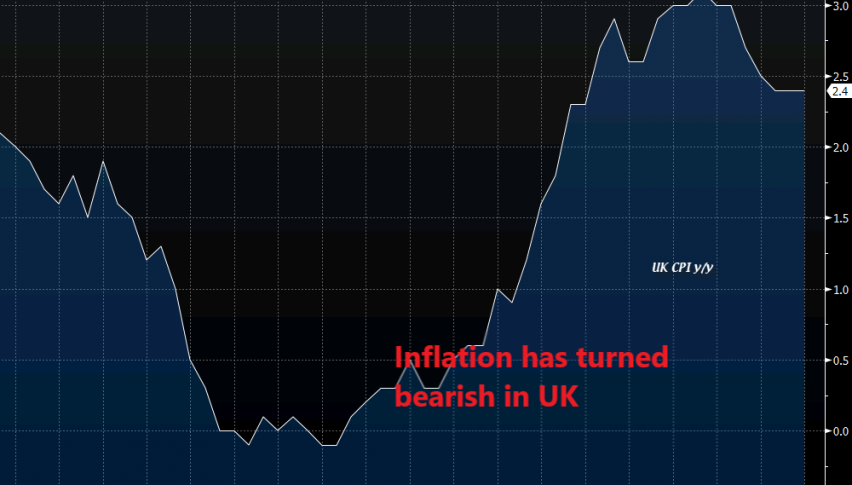 UK Inflation Takes A Dive at the Worst Time
The inflation in the UK has been pretty upbeat. It peaked at around 3% last year and held steady at those levels for nearly 10 months before it started cooling off again several months ago. Still, at 2.5%-2.6%, the inflation is right where the Bank of England wants it.
The annualized CPI (consumer price index) inflation was expected at 2.6% this month, but instead, it came at 2.4%. That's not too bad either. Although, the monthly CPI number fell flat at 0% against 0.2% expected, and down from 0.4% last month.
That's quite a turnaround, but that's not all. The core CPI number was expected to remain unchanged at 2.1%, same as last month. Instead, it fell to 1.9%. That's below the 2% target that the BOE holds. Still, it isn't too far from the target. But the trend has become worrisome.
One Day After the UK Government Nearly Collapsed
What's worse is that it comes at a bad time, or the right time if you are a GBP seller. Yesterday, the British PM Theresa May barely made it in the Parliament as the rebels from her Conservative Party teamed up with the Labour Party to take her down on the Customs amendments but she just made it by threatening the Tory rebels with general elections.
It's a total mess right now in the UK politics and it seems that it will continue like this until Brexit happens or perhaps she won't even survive until then. The BOE Chairman Carney said yesterday that the Brexit hullabaloo might affect the monetary policy and right after he said so, the UK government almost fell.
That was one event to scare the GBP buyers. The other event took place today and it is inflation taking a dive. The August rate hike seems less probable now, although it is still in the cards. But, the decline below the 2% target will surely put off any further rate hikes that the BOE might have planned. As a result, the GBP lost nearly 100 pips after the report was released. For now, I see GBP/USD staying on a bearish mode until we hear some positive news from Brexit, if there will be any such news.