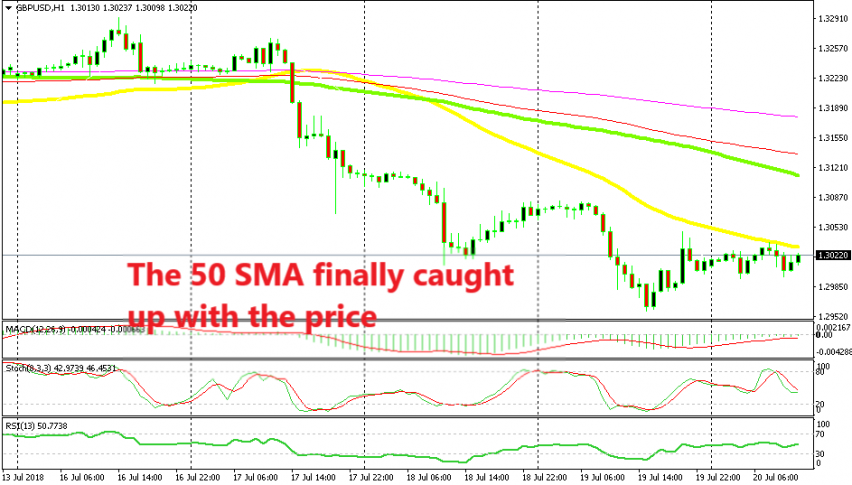 Getting in Short on GBP/USD After Trump's Spike
The GBP has been going down a slippery slope for quite some time. Yesterday GBP/USD made new lows, breaking below the previous lows at 1.3050 as well as breaking the big round number at 1.30.
Yesterday though, the USD went through a moment of weakness, which came all of a sudden. Donald Trump interfered in the monetary policy of the FED in what seems a very strange event since politicians usually don't mess with the policy of the central banks, otherwise their independence would be lost.
But we live n strange times when there's nothing that can't be talked about, especially when it comes to Donald Trump. That is a good thing in general, but it is not very good for forex traders. Yesterday the Buck lost nearly 100 pips after Trump's comments that the FED should be careful with hiking interest rates.
GBP/USD quickly surged 90 pips higher but it failed to reach the 50 SMA (yellow). The 50 SMA has reached the price this morning and it is trying to push it lower. So, we decided to go short on GBP/USD right below the 50 SMA.
At the moment, forex traders don't know whether to follow Trump, the FED or the market. The FED and the market are both long on the USD, but Trump is a market force to reckon with, and he has the power to reverse the markets. Although, at the moment the charts look pretty tempting and the market remains in control, so we decided to go with it and sell GBP/USD. Hopefully, Trump won't get in our way again today.