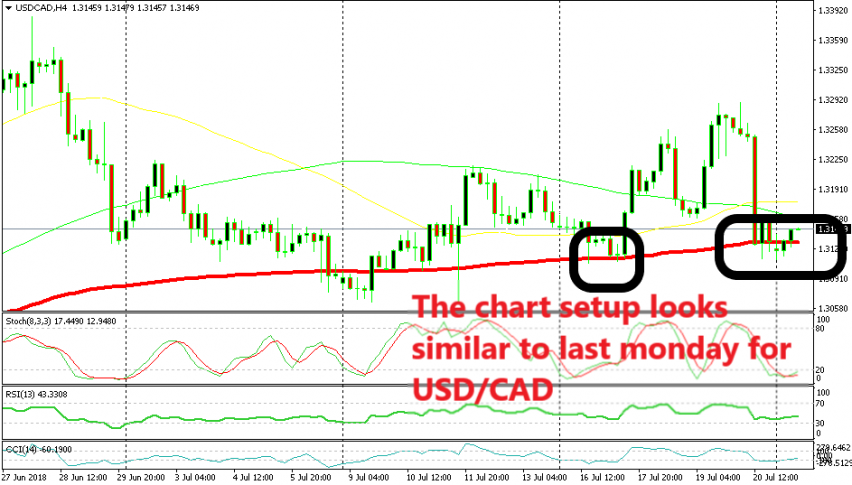 USD/CAD Back at the 100 SMA. Ready for Another Bounce?
Last Monday
Last week, the pressure was on the upside for USD/CAD. The price was sliding on Monday but it stopped short at the 100 SMA (red). This moving average has been providing support before for USD/CAD despite getting pierced a few times.
This moving average was standing above 1.31, which is an important level by itself. Besides being a big round number, this area was the high for USD/CAD in more than a year, which made it even more important.
Another bullish sign last week was the doji candlestick which is a reversing signal after the small pullback lower. Stochastic was also oversold and heading up, so the picture was looking set for a bullish move.
The move didn't take too long to unfold, but at the end of the week the bearish move happened even quicker. As we know, Donald Trump made negative comments regarding rate hikes. The FED has been hiking interest rates pretty fast in recent months and Trump said that he didn't like that.
This Monday, the USD fell through an air pocket and USD/CAD lost nearly 200 pips. Now, we are back at the same spot as last Monday. The price is trading just above 1.31 and it seems like this level is holding for now. The stochastic indicator is again oversold and the 100 SMA is still providing support.
Is another bullish move coming soon? We don't know for sure but the chart is surely pointing up. Perhaps, Trump's move will fade out today. After all, we are all getting used to Donald Trump now.