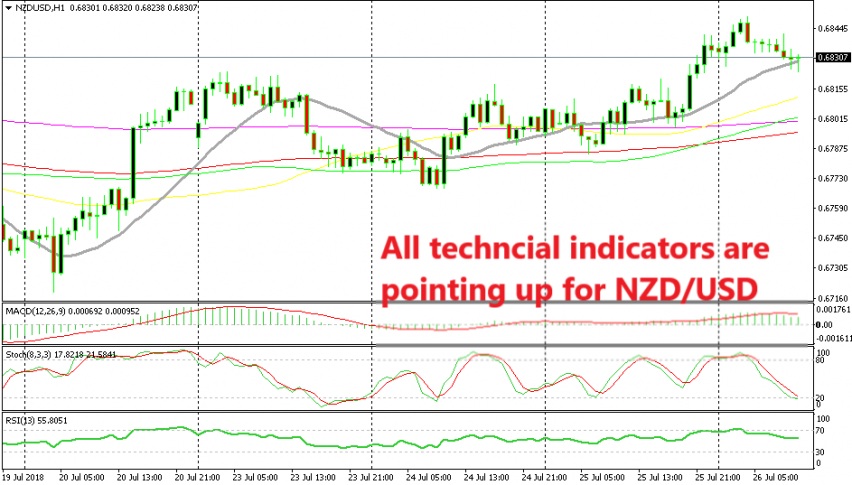 Trying to Get Some of Yesterday's Action from NZD/USD
Yesterday, EU's Juncker met with the US President Trump at the White House and, contrary to my belief, they sort of reached an agreement. The agreement was to reduce trade barriers and tariffs as much as possible, although this was just an agreement on rough terms.
Both sides are going to send teams of "experts" to negotiate and come out with a detailed plan on what tariffs and barriers they can remove. So, it might fall apart at any stage but for the moment, it removes some of the risks that the financial markets face. China feared that the EU was going to stab it in the back and line up with the US and that seems to be the case, although it is too early to tell.
Anyway, risk currencies got some decent bids last evening and the USD went through another period of weakness. Commodity Dollars were among the prime beneficiaries. NZD/USD climbed around 40 pips after the news while AUD/USD jumped 60 pips higher.
The bullish trend in these two pairs that has formed in the last two weeks received some more fuel last evening and extended further. This morning though, we see these two forex pairs retrace lower. This looks like a good opportunity to get in on the rally and try to get some of the action that we missed yesterday.
NZD/USD has been showing resilience lately, more than AUD/USD, so we decided to try this pair instead. We opened a buy forex signal at the 20 SMA (grey) since the sellers are starting to have difficulties around that area.
The 20 SMA is providing some form of support, albeit mild. Besides that, the stochastic indicator is oversold now, which means that the retrace down is almost complete. The previous hourly candlestick formed a doji which is a reversing signal, so the picture on the H1 chart is pointing to a bullish reversal. This area was also the high from last week, so there are quite a few technical indicators which are pointing up, fingers crossed.